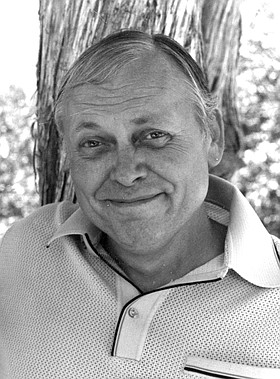 William F. Johnson
September 2, 1937 - February 25, 2017
William F. (Johnny) Johnson of New Meadows, Idaho, died on Feb. 25, 2017, at the age of 79. A celebration service of his life will be held at 2 p.m. on Saturday, March 11, 2017, at the Heikkila-Carver Funeral Home, 155 S. Samson Trail, McCall, Idaho. Burial will be at the Meadows Valley cemetery next to his wife, Bunny.
Johnny was born Sept. 2, 1937, in Kalispell, Mont., to Louis and Ruby Johnson. Later in his young life his family moved to Idaho where he attended school in Emmett and Meridian, Idaho, and later worked as a farm hand in Melba, Idaho.
In 1956 he joined the Air Force and served his country as a loadmaster on the C-124 Globemaster aircraft where he traveled the world.
While on leave in Idaho he met the love of his life, Yvonne (Bunny), at a church function. They were married in Boise at the Eldorado Church of Christ in August of 1960.
Shortly afterwards they made the trip back east where he transitioned from active duty to the reserves, working at Dover AFB in Delaware. The couple lived in Villanova, Penn., where he attended Bible college. They later returned to Idaho and started a family.
In the late 1960s, he joined law enforcement and became an Ada County Deputy Sheriff where he was active on the dive team, and worked to train his German Shepherd, Bridget, for the early K-9 program. He also placed second in the State of Idaho in a shooting competition for peace officers held in Pocatello.
He was bitten by the flying bug, probably due to his time in the Air Force, and went on to obtain his pilot's license in 1970.
Johnny was a talented craftsman and his attention to detail aided in his work as a finish carpenter. He built custom cabinets and many homes over the years. He also worked in the heavy construction industry on large projects such as Libby, Dworshak and Lower Granite dams.
Dad had a sharp mind and a quick wit; attributes that saved him once his body could no longer take him where he wanted to go. He made many friends during his time on earth. He loved God's people and the Lord Jesus Christ. It didn't matter if you were on top of the world, or on the bottom, he always accepted you and tried to help those he could.
As many of you know, he wasn't afraid to share his beliefs with anyone willing to listen. He was a Christian first and a patriot second. He lived a life of adventure, whether that was flying into the back country with his family for a fishing trip, camping in the Idaho mountains, or taking a road trip. He always had a smile on his face no matter his circumstances.
He is survived by his four children: daughter, Jan Hambright (Dave), son Mark (Dawn), son John, and son Andrew (C.J.); a brother, Ralph; a sister, Louise; 14 grandchildren, six great grandchildren, extended family, and many friends.
Johnny was preceded in death by his beloved wife, Bunny, his parents, and a grandson.
The family would like to thank all of his caregivers for their help, Katherine, Janet, and all the Nancys, Dr. Marcia Witte, all the hospice nurses and Chaplain Joe Wilson.
A special thank you goes out to his wonderful caregiver, John. We know Dad couldn't have hung in there as long as he did without your tireless devotion. Thank you.
If desired, you may leave a note or condolence for Johnny's family at http://heikkilafuneralchapel.com.