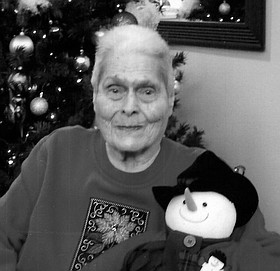 Ruth O'Neal
May 17, 1923 - April 30, 2017
Ruth Williams O'Neal, 93, of Lewiston, Idaho, formerly of Grangeville, Idaho, died Sunday, April 30, 2017, at the Royal Plaza Health and Rehabilitation Center in Lewiston. Ruth was born May 17, 1923, in Bernie, Mo., to William E. and Oma Jane Williams at the family farm.
Ruth's mother passed away when Ruth was only 8 years old. She was raised by her older sister Eunice.
She started welding for the war effort in June 1944. Ruth migrated to San Diego, Calif., welding on life boats. She later migrated on to Lone Pine, Calif., working as a waitress.
This is where she met the love of her life, Gaylon O'Neal. They were married on July 14, 1946. They were happily married for 61 years before Gaylon passed in 2007.
Shortly after their marriage they moved to Idaho. While living in Caldwell, they added two sons to their family; Ron in 1951 and Larry in 1954.
They moved to Grangeville in 1955 and bought their home on Scott Street in 1956. Here they lived until 2007 when they relocated to the Royal Plaza in Lewiston.
Ruth is survived by her two sons; Ron (Karen) O'Neal and Larry O'Neal and partner Debbie James; three grandchildren, four great grandchildren, and one great-great grandchild.
She was preceded in death by her parents; husband, Gaylon; five brothers and sisters; and one great-granddaughter.
A graveside service for Gaylon and Ruth will be held Friday, May 5, 2017, at the Prairie View Cemetery in Grangeville at 1 p.m. Arrangements are under the direction of the Blackmer Funeral Home of Grangeville. Send condolences to the family to Blackmerfuneralhome.com.