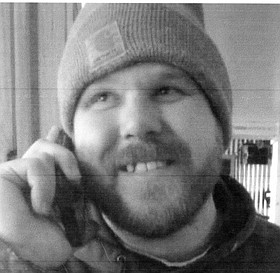 Derek L Olson
Riggins, Idaho
April 26, 1981 - March 20, 2017
Derek Lawrence Olson died March 20, 2017. He was born on April 26th, 1981, to David and Debbie Olson. Derek went to Collister Grade School, Hillside Jr. High and graduated from Valley Christian High School. He attended Baptist Temple Church and at the age of 12 accepted Jesus Christ as his savior.
Derek enjoyed many things in life including motorcycle riding, snowmobiling, fishing, hunting, rollerblading and white-water rafting. Riggins was his favorite place to be. He always had a smile on his face, the kind that warmed and welcomed everyone. He was a happy person with the biggest heart of any person we've ever known. He never met a stranger. Everyone was his friend. He brought so much joy and laughter to everyone who loved and knew him. "Sho buddy" was his favorite response to those who knew and loved him.
Two years ago, he and his dear friend Paul Gatti started a budding business called Heaven's Gate Brewery, which was one of the things he really enjoyed, second only to his two children, Evan and Sasha who were his life, the light in his eyes.
He took Evan in as his own from day one when Evan was just 3 years old, adopting him officially in 2015. When Sasha was born in 2012, his life was complete. He spent quality time with his beautiful, sweet children on a daily basis. He worked hard every day to make sure his children and family had the best life. He worked hard at his career, and diligently pursued his passion and dream of owning a small specialty brewery.
Derek was a dedicated, loving father, husband and a wonderful son. He was a true friend to the special people in his life. He truly gave us the best years of our lives. He always went out of his way to help others. No matter how your day was, he could put a smile on your face. He was his daddy's sunshine. He was our sunshine. He was the sparkle in his mother's eyes.
Derek is preceded in death by his loving, little brother, Mike; his grandfather, Kenneth Olson; and his grandparents, Elmer and Margaret Chase. He is survived by his mother and stepfather, Debbie and Marty Coulter, father and stepmother, Dave and Kim Olson; wife, Felicia Olson, son and daughter, Evan and Sasha Olson; step-siblings, Casey, Cody, Ali and Skye Coulter, Joshua, Katelynn and Jake Manley, and Randy McClure; grandmother, Ramona Ulrich; Uncle Steve and Aunt Charlene Olson, Aunt Marlene and Uncle Glen Toothacher, Aunt Connie and Uncle Bruce Smith; cousins, Kaycee and Daniel Turner, Tyler and Luybov Olson, Shawna Reynolds, and Barrett and Jared Smith; Great Aunt Sharon Patterson, and Uncle Ralph and Aunt Midge Bowden, and numerous special friends and family, such as Sherri Bauer-Poe and the love of his life, Kelsey Poe.
Memorial services for Derek will be held on Saturday, May 27th at 3 p.m. at The Assembly of God Church in Riggins, Idaho with a gathering of family and friends, and finger foods to follow.
Following the memorial services, there will be an all you can eat Crab Feed with all the fixings held at The Seven Devils Steakhouse and Saloon in Riggins at 6 p.m., until the crab runs out. Tickets can be purchased at various businesses in Riggins, Grangeville and McCall, or at the door. Proceeds will benefit The Sasha and Evan Olson Trust Fund.
Psalm:37/4 — Delight thyself also in the Lord; and He shall give thee the desires of thine heart.