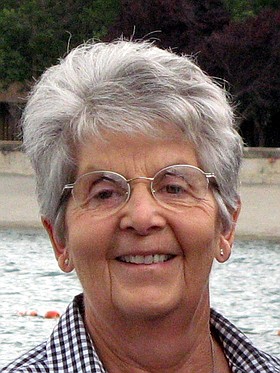 Laura Beth (Coppedge) Vawter
Clarkston, Wash.
November 16, 1931 - May 20, 2017
Laura Beth (Coppedge) Vawter, 85, of Clarkston, Wash., died in her home surrounded by her family on Saturday, May 20, 2017.
Laura was born Nov. 16, 1931, in Greeley, Colo. to William Bruce and Annie Laurie Coppedge. She had two brothers and three sisters. The family moved to Burbank, Calif. when Laura was five and while in California, Laura and her brothers and sisters worked as extras in the motion pictures. In 1944 they moved to Idaho. She graduated from Burley High School in 1949 and then attended nursing school in Boise, Idaho.
Laura and Glenn were married on August 13, 1951 at the Community Church of Santa Rita, N. M. They were blessed with three children: Glennda (Mike) Griffin of Grangeville, Idaho, Marla (Tom) McCue of Beaverton, Ore., and Roger (Tish) Vawter of Idaho Falls, Idaho. Laura worked for Syringa Hospital in Grangeville, and later for Grangeville Elementary School. After Laura's and Glenn's retirement they enjoyed many years traveling in their motor home and spending winters in Arizona. In 2006 they built a home in Clarkston overlooking the Snake River. They gardened together and she raised beautiful flowers.
Laura also enjoyed knitting, painting the ducks and songbirds Glenn carved, and spending time with family. She made beautiful afghans for each family member to mark special occasions. Laura collected dolls and bells, keeping meticulous records. Laura and Glenn also golfed together and enjoyed playing cards with friends in Idaho and Arizona.
Laura was an active member of Clarkston United Methodist Church, P.E.O., Doll Club and Garden Club, volunteering her time and creating lifelong friendships.
Laura is survived by her three children; sisters Jan Brown of Tigard, Ore. and Cheryl Caldera (Augie) of Clovis, Calif.; brother William Bruce Coppedge Jr. (Donna) of Modesto, Calif.; grandchildren Karla Staihar of Hillsboro, Ore., Jeremy Burress (Tiffany) of Hillsboro, Ore., Sarah Shepherd (Robert) of Lewiston, Idaho, and Tammi Schneider (Troy) of Tigard, Ore.; seven great-grandchildren, Natalie and Jonathan Staihar, Samantha and Alexandra Burress, Claire Shepherd, Trey and Tarin Schneider; and many nieces and nephews. Laura is preceded in death by her parents; her sister, Marjorie Atkinson; her brother, James Coppedge, infant brother Michael Coppedge; infant grandson, Michael Griffin Jr. and her husband of 65 years, Glenn Vawter.
A joint memorial service for Laura and Glenn will be held on Sunday, May 28, 2017, at 2 p.m. at Clarkston United Methodist Church, officiated by Pastor Cody Stauffer. Memorial donations can be made to the Clarkston United Methodist Church, Elite Home Health and Hospice of Clarkston, and the Clarkston Chapter of P.E.O.
Laura will always be remembered for her loving and kind spirit, her many friendships and love of family.