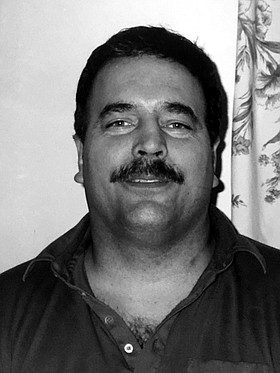 Paul Allen Bowman
Colfax, Wash
May 22, 1958 - May 16, 2017
Paul Allen Bowman, 58, died at his home in Colfax, Wash., on May 16, 2017, from a heart attack. Our family lost a loving son, grandfather, father, brother, and uncle.
Paul was the second of four children welcomed into Glenn and Doris Bowman's family. He was born on May 22, 1958, in Mansfield, Ohio.
He and older brother, Shawn, were a lively couple of kids, and loved to play cowboys or soldiers. The family moved to Pierce, Idaho in 1960 where sister, Laura, was born. Two years later, they moved to Grangeville and little brother, Mark, was born in 1962.
Paul loved to sing and would often serenade his mom and sister with songs like "The Green Beret." He was in chorus throughout high school. He started playing the trombone in the 6th grade and continued through his senior year at Grangeville High School. He and Shawn marched many a 4th of July parade in the Grangeville Border Days Band. He also loved sports, particularly football, followed by basketball, and track. Paul excelled in Journalism and Creative Writing at GHS. He was a gifted writer and won a Creative Writing Award in his senior year.
After high school graduation in 1976, Paul majored in Communication at U of I. During his freshman year, he met Kathy Hartzell and they were married at Caldwell in 1977. He worked at Dairyman's in New Plymouth. Their son, Anthony, was born in 1978. This marriage ended in divorce.
Paul moved back to Grangeville and took courses to become a life insurance and annuities salesman. He met Patti VanWie and they were married in February of 1980. They had two daughters, Jessica, who was born in 1982 and Jenna, who joined sister in January of 1985. They moved to Racine, Wisconsin in 1986 and Paul was a very successful salesman there and was the number one salesman in Wisconsin in 1990.
Their marriage also ended in divorce and Paul returned to Grangeville in 1991. He continued to sell insurance throughout North Central Idaho until recently. Paul was active in the United Methodist Church for many years.
Paul loved hunting, fishing, swimming, family gatherings, especially Christmas and the 4th of July, watching football, sharing a good brewski and taking drives in the beautiful forests and along the rivers in our area.
At the time of his death, he was living with his girlfriend, Brenda Coylar, and they were very happy together. Brenda was with Paul when he passed.
Paul's mother, Doris Bowman, preceded him in death on March 6, 2016. Surviving him are his father, Glenn Bowman, Grangeville; siblings, Shawn (and Kathy) Bowman in Asotin, Wash.; Laura (and Randy) Smith in Grangeville; Mark (and Anna) Bowman in Puyallup; children, Anthony (and Yara) Hartzell in New Plymouth, Idaho; Jessica (and Jim) Benedict in Racine, Wisconsin; and Jenna (and Brian) Daniele in Racine. Survivors also include Paul's grandchildren, Bella, Caden, Jeremiah, and William; nieces, Casey (and Danny) White and Rachel (Jordon) Belong in Bartlesville, Oklahoma; Michelle Bowman in Hawaii; Leah (Chad) Steinbruecker in Troy, Idaho; Julia Bowman in Puyallup. Wash.; and nephew Michael (Lauren) Bowman in Georgia; as well as several grandnieces and nephews.
Cremation has taken place and a celebration of life is to be held in June for family and friends at the Fish Creek Pavilion south of Grangeville. Please send condolences to the family to: Laura Smith and Glenn Bowman at: 202 E. South 3rd Street, Grangeville, Idaho.