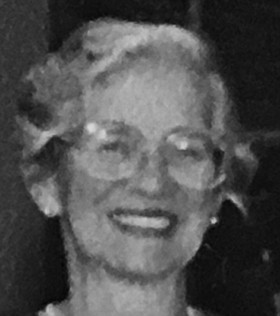 Margaret Grace Wiley
Hayward, California
unknown - September 23, 2017
Margaret Grace Wiley, died Sept. 23, 2017, at age 97. Margaret was born in Ronan, Mont., the daughter of Silver and Gladys Potter and granddaughter of Olof Peter and Emma Soderburg.
Although she always described herself as a farm girl from Ronan, Mont., life took her far from those rural origins.
Born in Grangeville, Idaho, she went on to travel the world following her high school sweetheart and husband Earl Wiley. He was the cowboy turned marine engineer she followed to Iran (five years), Indonesia (three years), and Scotland, all after age 49.
Years earlier, she came to the wilds of the East Bay to raise four sons in San Leandro, Calif. She was a committed volunteer for The March of Dimes, a den mother for each of her sons, and received a Life Time Service Award from the San Leandro School District P.T.A. She was a loving foster mother to more than one foster child. She loved ballroom dancing, square dancing, and reading. These interests led her to create libraries and dance groups in the far flung locales she found herself.
Margaret and Earl returned to their roots by retiring to a ranch between Danville and Pleasanton, Calif. in the early 1980's where they raised cattle and chickens. She was widowed in 1983, but she continued to live on the ranch. She threw down hay with a pitch fork for her cattle until at age 85 she moved to Hayward.
She is survived by sons, Steve Wiley, Dave Wiley, Dan Wiley, his wife, Tami Wiley and foster daughter, Patricia Overstreet-O'Toole; grandson, Jonathan Wiley, his wife, Claudia Wiley; nephews, Scott Cabral, Brendan Cabral; niece, Traci Sackett, Traci's husband, Rick, their children Emily, and Kenneth Sackett. Margaret was predeceased by her husband, Earl Wiley; son, Verne Wiley; and sister-in-law, Edna Cabral.
A celebration of her life of adventure will be held soon.
Please send an e-mail to Flossieflirt97@yahoo.com for date, time, and location.
In lieu of flowers we invite you to make contributions in Margaret's honor to the American Macular Degeneration Foundation at www.macular.org.