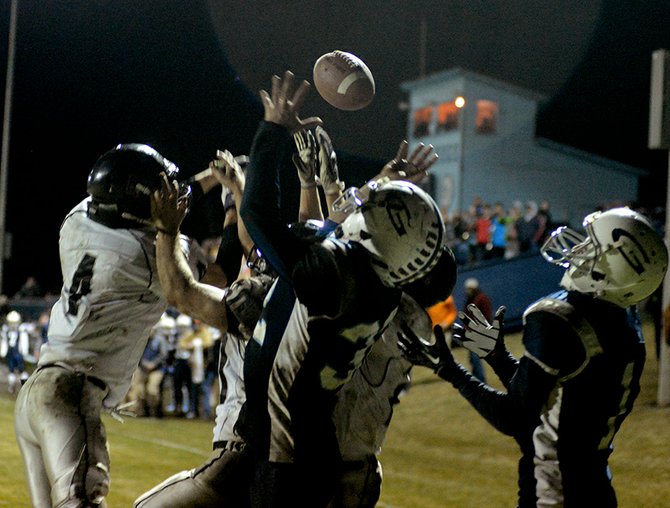 Grangeville's Alex Koberstein and Austin Parks reacted quickly to defending champion Declo's deflection of a last-second lob into the end zone during the Bulldogs' 23-17 loss to the Hornets last Friday night, Nov. 8. But after Declo's Hayden Hanson got a fingertip on the ball after leaping in front of Koberstein, the GHS players had but a fraction of a second to make a play. An even narrower win over the Bulldogs during last year's quarterfinal propelled Declo to the 2012 state title.
Stories this photo appears in:

No vengeance for last year's elimination loss as Declo rallies late once again
A stinging loss to Declo one year ago introduced a vengeance factor to one of 2A Idaho's budding playoff rivalries, but desire to wipe the grins from the Hornets' faces was not enough to propel Grangeville past the reigning champions last Friday night, Nov. 8, at GHS. Declo again overcame a halftime deficit by shutting the Bulldogs out during the second half of what wound up a 23-17 Hornets victory.