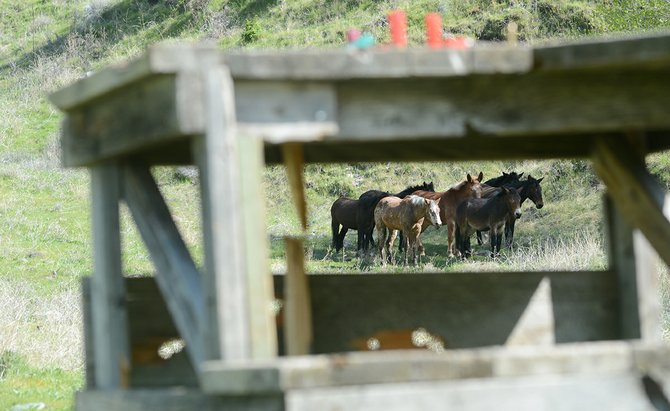 A shooting bench and a group of pack mules are the most prominent presence at a potential Riggins Gun Club site north of Time Zone Bridge. A complicated plan to deed the BLM ground to the club — a long-sought golden opportunity — is snagged: the Riggins Gun Club's membership has dwindled down to just Rodger Laughlin and his wife, Terry. "We're not prepared to take possession of the property," Laughlin said.
Stories this photo appears in:

Congressional Rep. Raul Labrador today, July 9, is introducing legislation to set up a permanent county-operated shooting range on about 31 acres north of Time Zone Bridge.

RIGGINS — Boom, gone.
If the Riggins Gun Club — once a 32-member outfit — can't find more members, the area may misfire on a golden opportunity to establish a permanent hub for shooting sports: shotgunning trap or skeet, sighting in hunting rifles, or passing all the how-tos to the next generation. At stake, according to Rodger Laughlin, one of the club's last two members, is a long-sought chance to acquire the shooting grounds north of Time Zone Bridge, two miles north of Riggins, which is presently owned by the federal Bureau of Land Management (BLM).