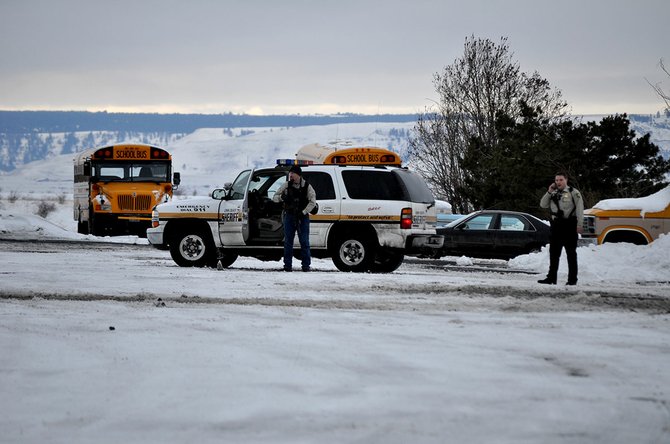 Deputies with the Lewis County Sheriff's Office were stationed at the GHS parking lot south entrance.
Stories this photo appears in:

The Monday, Feb. 10, lockdown at Grangeville High School may seem like a waste of time in hindsight, but that's not how Mountain View School District 244 superintendent Kent Stokes is looking at it. "I actually believe this was a blessing in disguise," Stokes said. The lockdown of Grangeville schools resulted from a report a person had been seen carrying a gun into the school. The firearm turned out to be a toy gun for a school play prop.

'There was no crime, no law was violated'
"There was no crime, no law was violated," said Grangeville Police Chief Morgan Drew following a nearly two-hour lockdown of Grangeville High School on Monday afternoon over what turned out to be a toy gun brought for play practice. Approximately 50 students and staff were in the building at the time of the 3:36 p.m. report, Feb. 10. A student on board a school bus witnessed what appeared to be a person with a rifle or shotgun entering the main GHS entrance.