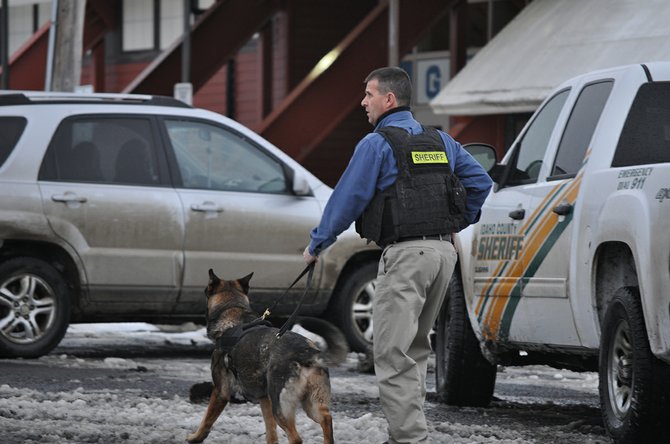 An unidentified Lewis County Sheriff's Office deputy deploys a K-9 dog to assist in the facility search of Grangeville High School during Monday afternoon's lockdown.
Stories this photo appears in:

Two weeks ago, Grangeville High School underwent a lockdown due to a report of a person on campus with a firearm. In due course, this was determined unfounded, and life went on. In reflection: Was this an overreaction? Was it unnecessary? Even in pro-gun Idaho County, the reality today – as unfortunately demonstrated in past incidents nationwide — argues "not at all." In fact, response by both the Mt. View School District 244 and local law enforcement showed a proper response that followed procedure and focused on quick response and safety.

From a law enforcement perspective, Grangeville Police Chief Morgan Drew said he was pleased with the quick reaction to the Feb. 10 GHS lockdown by all those involved. "Three units in three minutes [two GPD, one Idaho County Sheriff's deputy]: You can't ask for a much faster response time than that," said Chief Drew. And with the situation unknown and the possible suspect unable to be identified or located, it took within a minute for staff and students to enact lockdown procedures by moving to secure indoor locations. "It was very quick; people realized it wasn't a drill," he said.

'There was no crime, no law was violated'
"There was no crime, no law was violated," said Grangeville Police Chief Morgan Drew following a nearly two-hour lockdown of Grangeville High School on Monday afternoon over what turned out to be a toy gun brought for play practice. Approximately 50 students and staff were in the building at the time of the 3:36 p.m. report, Feb. 10. A student on board a school bus witnessed what appeared to be a person with a rifle or shotgun entering the main GHS entrance.