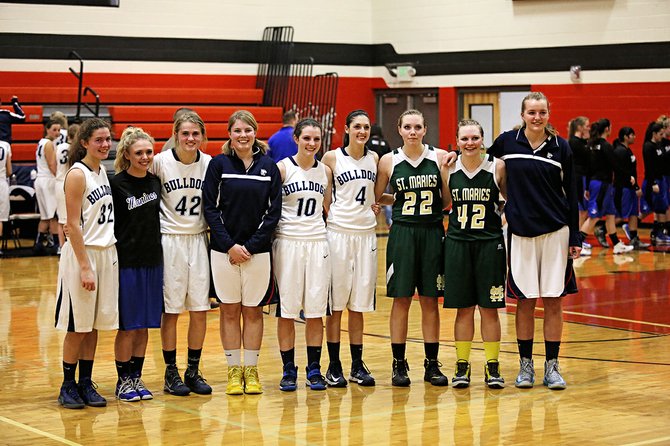 Along with "coach of the year" Larson Anderson (not pictured), four Grangeville players were named to the all-Central Idaho League team: Kaleala Bass, Madison Brown, Hailey Sullivan and league MVP Chantel Key. Pictured are the all-leaguers (from left): Bass, Orofino's Jordan Howell, Brown, Coeur d'Alene Charter's Sarah Haman, Sullivan, Key, St. Maries' Kelsey Auer and Kerstin Auer, and Charter's Jacklyn Jensen.
Stories this photo appears in:

Old Man Winter set back Grangeville's district tournament opener by a day, but neither wind nor sleet could keep the GHS girls from completing their months-long march to the 2A girls state basketball tournament, which will open with Valley against Cole Valley at 1:15 p.m. MT Thursday, Feb. 20, at Kuna High School.