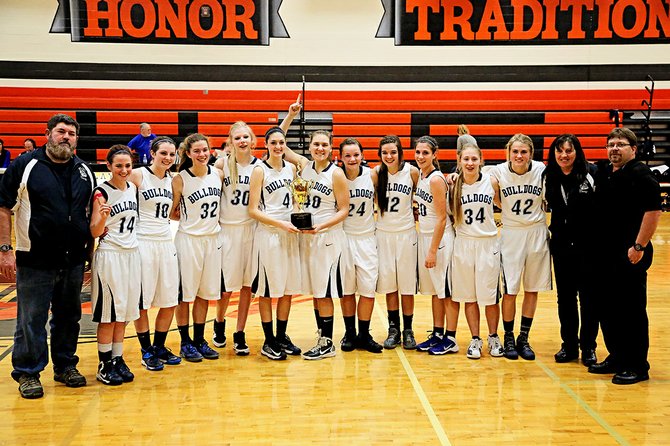 Grangeville won its district, thereby advancing to the 2A state tournament, which will run Feb. 20-22 at Kuna High School, with the 2A title game to be played on the coming Saturday afternoon at the Idaho Center in Nampa. The 2014 2A District II champions are (from left): 'C' coach Shaun Bass, Erica Fortin, Hailey Sullivan, Kaleala Bass, Faith Bieler, Chantel Key, Lila Musegades, McKenzie Kennedy, Addie Lutz, Lizz Forsmann, Sarah Wilson, Madison Brown, 'JV' coach Elaine Anderson and head coach Larson Anderson.
Stories this photo appears in:

Old Man Winter set back Grangeville's district tournament opener by a day, but neither wind nor sleet could keep the GHS girls from completing their months-long march to the 2A girls state basketball tournament, which will open with Valley against Cole Valley at 1:15 p.m. MT Thursday, Feb. 20, at Kuna High School.