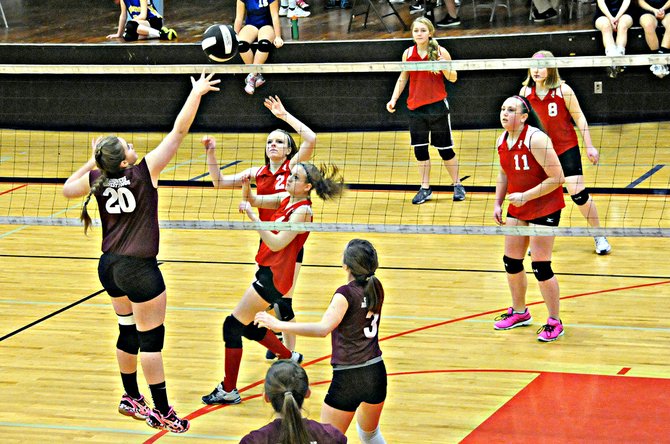 Kamiah and Clearwater Valley (Kooskia) middle school volleyball players battle it out on the court at the Prairie High School gym Saturday, March 1, at the Cottonwood Middle School 8th Grade Volleyball Tournament. Winner was Nezperce with Prairie in second place and Grangeville in third.
Stories this photo appears in:

Kooskia, Kamiah News
Idaho absentee voting applications are available on-line. If you are a registered voter in Idaho, your can access an absentee ballot on-line at www.idahovotes.gov/clerk.htm , click on "voter registration and information," then on "absentee ballot." Print your ballot, fill it out and submit to the appropriate site. Ballot application must be requested at least six days before the election and must be delivered by mail or in person to: Idaho voters, Idaho County Elections 320 West Main St, Rm 5, Grangeville, ID 83530 or Lewis County, Lewis County Courthouse, 510 Oak St., Nezperce, ID 83543. Absentee ballots must be received in the clerk's office by 8 p.m. on election day. Be sure and vote either in person or by absentee. You can't be heard if you don't vote.