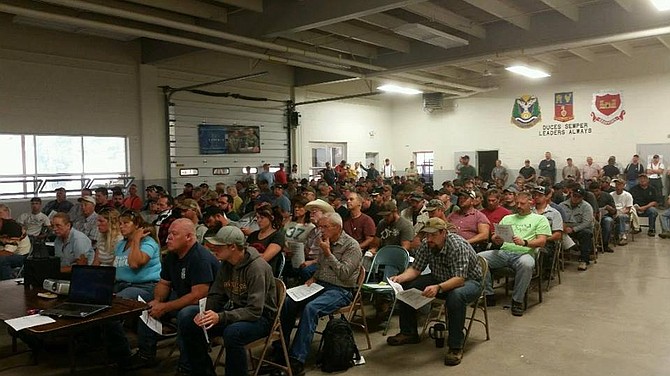 More than 200 people, mostly loggers from north central Idaho, stepped up and showed their willingness to support firefighting efforts by participating in basic fire line training on Tuesday in Orofino.
Stories this photo appears in:

"We got a lot of line established and tied together yesterday," Clearwater Complex Operations Chief Mark Goeller said. "The basic theme today is search and destroy to minimize a chance of the fire breaking out when the weather changes."

Yesterday, the National Weather Service in Missoula yesterday issued a Red Flag warning that takes effect 10 a.m. to 8 p.m. PT today, across the region, including the Palouse, Hells Canyon, and the Nez Perce-Clearwater National Forests. The Weather Service is anticipating gusty winds and low humidities, with southwest winds 10 to 20 miles per hour gusting to 30 miles per hour. Minimum humidities of 14 to 19 percent are expected.