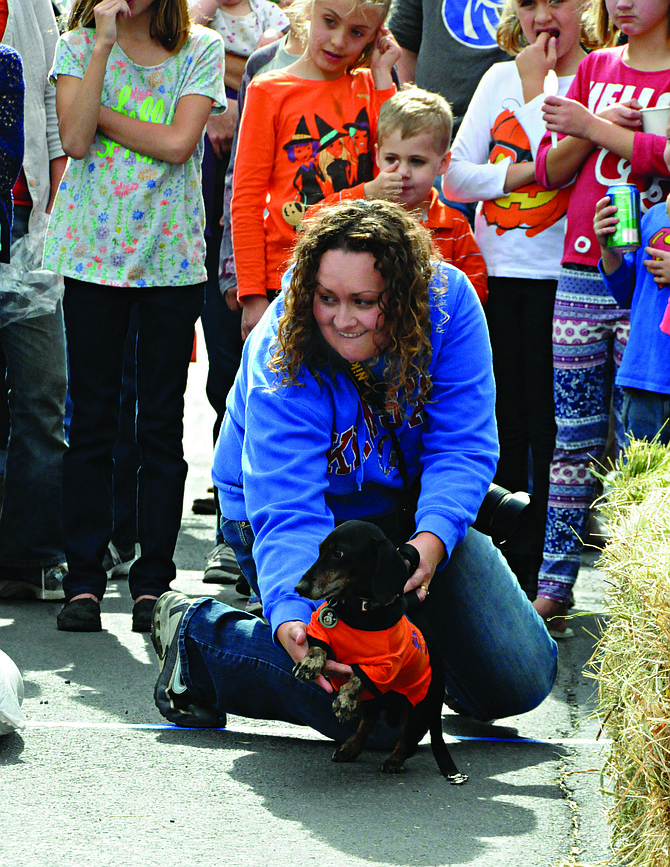 Apryl Farmer gets ready to let loose her dog, Marley, at the Grangeville Oktoberfest Wiener Dog Races Oct. 8. The event was sponsored by Syringa Hospital and Clinics. Dogs competing from first to last place, their age and owners are as follows: Smokey, 4, (Shannon Wheeler); Sadie, 5, (Polly Mozingo); Hazel, 3 months, (Michaela Nuxoll); Marley 10, (Apryl Farmer); Biscuit, 9, (Megan Finke); Scout, 2, (Lorie Palmer); and Rylie, 14, (Megan Thomas).

Stories this photo appears in:
Bulldog cards, to benefit the Grangeville schools music department, are on sale now at the school. Cards are $10 apiece and are also available at Grangeville Flower Shop, Seasons, Pizza Factory, Grangeville Country Club, Shear Magic and Crema Café.