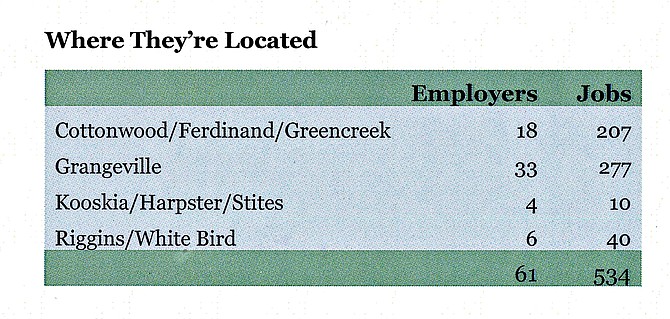 Contributed / Kathyrn Tacke
The above chart shows where long-term, family owned businesses are located.
Stories this photo appears in:

It's Your Business 2017
Did you know that small, long-term, family-owned businesses in Idaho County accounted for a total payroll of $18,213,254 in 2015? Additional private businesses added another $82,130,611. That's out of a total $151,724,021 wages and salaries in 2015. According to Kathryn Tacke, regional economist for the Idaho Department of Labor, Lewiston office, there are 61* long-term local businesses employing 534 people. The average pay per work at those businesses was $34,107 (annual) which is 3.1 percent higher than the $33,090 paid by all other private-sector employers.