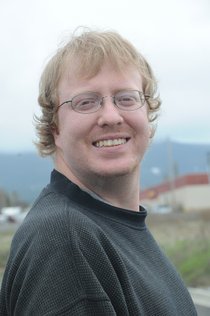 Recent Stories

Jenny Arnzen practices what she preached to those who turned out for to run cross-country with the Prairie High School team she helped organize in 2015.

Border Days: 'Rocket's Red Glare'
When John Urbahn started pitching in to help with the Border Days fireworks show, he helped his dad, Bob Urbahn, set up and launch a much smaller booming, glittering display than will be seen at the GHS football field this Independence Day. It has been four decades of joy for John Urbahn, who is about to mark his 40th year launching the July 4 fireworks with the Grangeville Volunteer Fire Department.
After the huge fire season last year, the federal forests started planning salvage work that may yet recover lots of logs from burned areas. Plans for three of the projects the Nez Perce-Clearwater National Forests started in 2015 are now in writing. The three drafts went up for public review and comment on May 7, and the combined forests have made some changes.
Among the "small NEPA" projects the Nez Perce-Clearwater National Forests announced in a May 27 letter are several taking place on local ranger districts. On the Red River Ranger District are projects calling for electrical lines are to be buried along Road 222D near Dixie and test drilling for gold in the Siegel Creek drainage. On the Salmon River Ranger District are projects calling for culvert replacement in Peasley Creek and placer mining exploration in the French Creek drainage. On the Lochsa-Powell Ranger District is a project calling for tree planting in the area burned by last summer's Woodrat Fire.
Three years after a sex scandal struck the Idaho County Sheriff's Office, United States District Judge Edward Lodge on June 10 dismissed a federal civil case against Sheriff Doug Giddings, Undersheriff Jim Gorges and Idaho County.

It was a beautiful morning for the youths who showed up at Wilkins Pond last Saturday, June 11, as the rainbow trout stocked by Idaho Fish and Game proved hungry and strong.

CVRA, White Bird slates brim for Fathers Day
The upcoming Clearwater Valley Roundup Association and White Bird rodeos are going head-to-head this weekend, with White Bird to go on its traditional Friday-Saturday of Father's Day weekend dates, June 17-18, and the CVRA moving up on the calendar to go on Saturday and Sunday, June 18-19.
County to vote July 12 on plan
During the Tuesday, June 14, hearing over Idaho County's draft resource management plan (RMP), Commissioner Mark Frei staked out a bit of middle ground on which the board will be proceeding toward adopting an official position on numerous public land questions. Chairman Jim Chmelik said he hopes the RMP will "give the county some standing with the agencies and give our input from the county…[on matters ranging] from better management of the resources to better access for recreation to the historical significance" of places such as the meanders miners created long ago at Crooked River.
Editorial
If you've asked the people you know who voted why they think Idaho County Commissioner Jim Chmelik lost, they've probably already told you what they've been telling us: Mainly, they just don't like his style.
The disastrous fires last year made a fiscal windfall for Idaho County, as the yield tax private owners paid from July 15-Dec. 31 last year showed a jump to three or four times the usual level. During the commission's regular meeting June 7, assessor James Zehner reported $94,000 came in, and a similar amount is anticipated for the coming year.