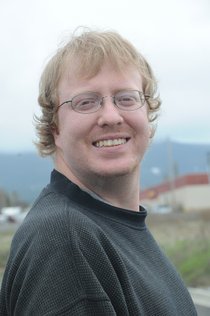 Recent Stories

Clearwater Valley needed a win to keep Troy from clinching the third of the Whitepine League's three playoff berths, but starting with a fumble on their second play from scrimmage, the Rams' opportunity slipped away.
The U.S. Army Corps of Engineers, Bureau of Reclamation and Bonneville Power Administration have announced their intent to prepare an environmental impact statement (EIS) on the Columbia River System operations and configurations for 14 federal projects in the interior Columbia Basin.

Restrooms at the Idaho County Courthouse were out of service Thursday, Oct. 20, while a City of Grangeville work crew dug a hole in the west edge of the courthouse lawn in search of a leaky bit of plumbing. The problem first emerged with water flowing into Main Street at about 7:30 p.m. Tuesday and was temporarily fixed Wednesday only to reemerge Thursday morning.
Water, sewer system project estimate: $4M
Idaho County Commissioners Mark Frei and Jim Chmelik both stated support for an upcoming effort to modernize Elk City's 50-year-old water and sewer system, which is expected to cost $4 million with funding to involve a $500,000 Idaho Department of Commerce block grant, state and federal loans and a $2.5 million USDA Rural Development grant. The block grant application is to be postmarked by Nov. 18, grant writer Walter Steed told the board during a public hearing Oct. 18, and a decision will follow next spring.
Roughly 1,400 Idaho County citizens have voted so far
Roughly 1,400 Idaho County citizens have voted so far, of about 9,600 registered for this election. That's according to the arm of local government that's tasked with overseeing elections – the Idaho County clerk's office, which is now seeing about 40 voters per day casting early ballots.
Salmon River's volleyball team added two district tournament wins to the streak the Savages have run off against Long Pin Conference foes, defeating Garden Valley 3-0 on Oct. 15 and defeating Council 3-0 in the District III title game last night. The district title comes with a berth in the 1AD2 state tournament, Oct. 28-29 at Bonneville, where the Savages will play the District IV champion -- either Lighthouse Christian or Carey -- in the first round.

Bulldogs maul Maniacs 21-6
Pity the coin-operated laundromat washers and dryers.
Football
Prairie thundered Troy 42-20 after a slow start saw the Trojans strike first, on a long pass play, last Friday night, Oct. 7.
Three Whitepine League district volleyball seeds are set in the upper division, and four are firmed up in the lower division.

St. Maries 8, Grangeville 0
An 8-0 final score last Friday night, Oct. 7, began with ominous turnovers by both teams: back-to-back fumbles foretold a defensive struggle during the first cold rain of the season at the Bulldogs home field.