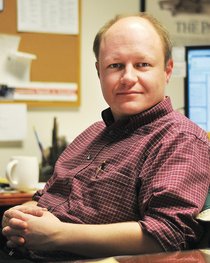 Recent Stories

"If you're getting loud, eventually they're not going to hear you," said State Representative John Rusche, Minority Leader, (Dist. 6)," and you've probably stopped listening, too."
With one arrest under their belts, area law enforcement continue investigation into a recent series of Grangeville-area burglaries.

Cottonwood City Councilor Shelli Schumacher was sworn in as the city's new mayor Monday night, replacing Denis Duman who resigned his seat in a letter presented at the Feb. 8 session.
Felony charges against two Arizona woman involved in an apparent child custody dispute at Kamiah were resolved in district court last week. In a plea agreement reached with the prosecution last Tuesday, Jan. 26, Rita L. Lewis 49, pleaded guilty to the charge, amended to a misdemeanor; and the custodial interference case against Veronica M. Lewis, 26, was dismissed.
Main Street establishments hit
Main Street businesses are advised to take precautions following an attempted break-in early this week that may be related to two separate burglaries last month.
Threat of arrest, being shot keep Andersons from leaving refuge
"None of them want anything more to do with this. They want to go home," said Idaho County Sheriff Doug Giddings of four individuals – two of whom are Riggins residents – who remain at the Malheur National Wildlife Refuge in Oregon, site of a month-long standoff by protestors.
Editorial
Did activist Robert LaVoy Finicum have to die? Opinions are heated on last week's shooting of the spokesman for activists who have staged a month-long occupation of the Malheur National Wildlife Refuge near Burns, Ore. Was it justified, or was it an ambush and murder? That's a conclusion we're not ready to jump at, because more importantly we're asking whether this whole situation justified actions that resulted in a man losing his life. And with this also brings to mind the role of law enforcement as public servants and protectors of the peace.
Slick conditions over the weekend contributed to several slideoff and rollover crashes, reported to the Idaho County Sheriff's Office (ICSO).

Incident alleged to involve shotgun, knife
A preliminary hearing is set for next Tuesday, Feb. 9, for a Kamiah man charged with two counts of felony aggravated assault resulting from an incident with his son last month.
Editorial
If you know all about the trending illegal drug scene, then you can stop reading here. But, if you are like us, you likely have no clue as to the extent of what is really going on … and so perhaps, you should be paying better attention.