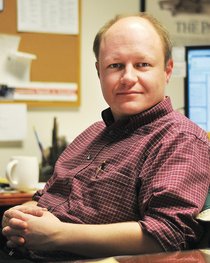 Recent Stories
Crime News:
- Pair face felony charges for generator thefts - Hudson sentenced on high school, purse thefts
Editorial
Contentious and gutter-scraping: the political race for Idaho County sheriff. Beyond watching the mud fly to see what sticks, of more pressing and difficult concern is the issue of recent endorsement ads for both candidates that involve law enforcement members of county and city policing agencies.

Motorcycles were put through their paces at last Saturday's Oct. 22 Fall Enduro Halloween Classic at the Grangeville Off-Road Park east of Idaho Forest Group off Old Highway 7. The motorcycle-only multi-class event is a family-oriented race day that is mostly non-competitive. The course length is about 0.5 miles for kids and two miles for adults. The general format is as many laps as possible in the time allotted.

Personal touch to assist local voters with disabilities
Voters have challenging decisions ahead of them in the upcoming Nov. 8 general election, but for some the difficulties will not be at the ballot box but in just getting there. However, for persons with disabilities in Idaho County, many options are readily available – whether at home, at the courthouse or the polling place — to assist voters in getting their ballots cast. "We want people to vote, and we want to make it convenient for people to vote," said Jessie Adams, Idaho County elections clerk.

Three injured in Oct. 25 accident east of Kooskia
One person has died and three were injured in a Tuesday evening three-vehicle crash east of Kooskia. Idaho State Police is investigating the Oct. 25 incident.
Senator Mike Crapo crossed a line in the sand for Idaho County Republicans who last week pulled their support for the three-term incumbent just days following his decision to pull his endorsement for GOP Presidential candidate Donald Trump. As a result, the Idaho County Republican Central Committee (ICRCC) stated, in an Oct. 11 letter to the senator, its members would not be providing physical nor financial support toward his re-election campaign, which would include sign and literature distribution, as well as removal of signs currently placed.

A place to meet
One person stood clear of the scissors at Saturday's dedication ceremony for the new veterans' center in Grangeville. "I'm commissioned now and they won't let me touch anything sharp!" joked Robert Skinner, commander for the State of Idaho American Legion. Around 160 people attended the Oct. 15 event, celebrating the grand opening of the Veterans Outreach and Community Center at 318 East Main Street.
Editorial
We must disagree, in part, with our county Republican friends in their disassociation last week with Senator Crapo for his decision to rescind his endorsement of GOP Presidential candidate Donald Trump.

Election 2016: Dist. 7 Senate - Crabtree, Meyers race for state seat
From education to economics, District 7 is faced with a complex set of issues, according to Ken Meyers. "There are a lot of things we need to be focused on," he said, "and we have a platform here to focus on them," within the Idaho Legislature.

Election 2016: Dist. 7A (Chilcott)
'Important to do a good job for everyone in the district' — Chilcott