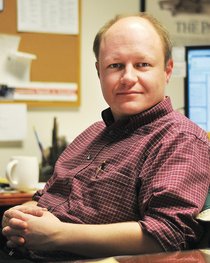 Recent Stories

2016 4-H, FFA Livestock Sale; up from 2015
Christmas plans were announced early at the Aug. 15 Grangeville City Council meeting, as the Forest Service announced plans for a November presentation of the Capitol Christmas Tree.
Brenda Ehrard, 55, of Pocatello, was airlifted
A construction flagger was transported by Life Flight Tuesday morning, Aug. 23, after being struck by a vehicle.
Godwin, 34, faces multiple felony, misdemeanor charges
An anonymous tip last Saturday resulted in the arrest of a Culdesac man, sought on outstanding warrants, who allegedly fled from a traffic stop last month. Now, Timothy Joshua Godwin, 34, faces multiple charges resulting from the July pursuit as well as from the weekend's arrest that include felonies for eluding a police officer, and possession of both methamphetamine and an explosive device.
Editorial
Readers on this letters page will be informed that the Idaho County Democrats' booth was vandalized during the Idaho County Fair. Of course, it wasn't you who did this. This was the work of dumb, or perhaps both dumb and dumber, acting out the only kind of political discourse he or they were able to do: graffiti and demolition. Perhaps they celebrated their triumph later by shooting out power pole insulators.
Sept. 6 public hearing: Grangeville City Council
The City of Grangeville is proposing a nearly 15 percent increase in its fiscal year 2017 budget. Set at $5,496,785, the proposed budget – effective Oct. 1 at the start of the fiscal year – would include additional funds for planned city street work, as well as rate increases for services. A public hearing on the proposal is set for Sept. 6, 7:30 p.m., during the regular Grangeville City Council meeting. Comment on the proposal will be taken, after which the budget will be considered for adoption.
Editorial
Presidential politics. Regional economics. Immigration. Health care costs. The impending family arguments at Thanksgiving dinner. OK, we've got enough seriousness on our plates to literally last us through the end of the year. So let's set that stuff aside and focus on something more locally pressing: You're going to the Idaho County Fair this year, right?

Mager new chief in charge of Grangeville fire departments
Saving structures and personal property are important to firefighters, but Bob Mager spells out their top overriding duty: "Life safety is the first thing of everything," he said. "If mamma can't find little Billy then the whole thing stops. You may lose the building trying to save a life, but that's the first thing: life safety."

Video sensors run Grangeville signals; state project at end
What's up with those cameras at Grangeville's stoplights? Equipment upgrades at the Main and Idaho streets intersection propose to make for more responsive signal changes and better assist road-crossing pedestrians.

Six Grangeville firefighters were recently recognized at a department function.