GRANGEVILLE – What does it look like to minister to the Lord? Well, next week, it will look very much like a tent.
Starting next Monday, Aug. 10, and running through to Sunday, Aug. 16, the Altar of Affection will be set up on Grangeville's Main Street, across from Cash and Carry Foods. Organized by Open Air Worship, the event will congregate in a large tent to provide a place where the Lord will be welcomed into the people's midst. For public safety, masks will be provided.
According to event organizer Michael Stevens, Open Air Worship is a nondenominational organization made up of those from many local churches who have come together in this for a unified vision.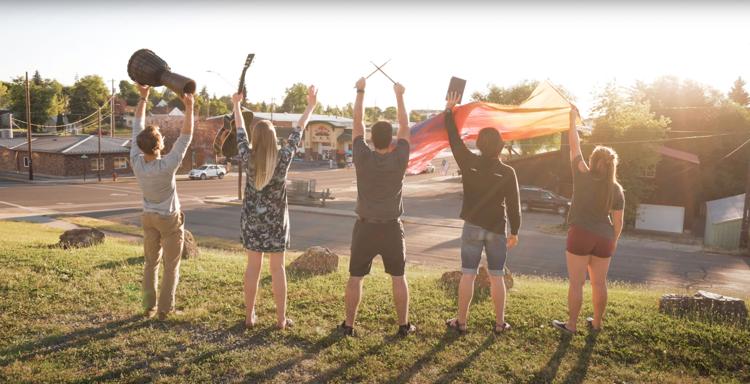 "We need Jesus, as a city, as a community, as a state and nation," he said. "We truly need Jesus, and this tent is a place where we can come together and say 'Lord, we need you, we need you to come, we need you to be with us.' We believe it's almost like provoking or enticing the Lord to come with our love because it's our love that's poured out on him."
"That comes from the vision from Ezekiel [48:35], the city that shall be called, The Lord is there," he continued. "That is our vision, Grangeville, this city be known as The City That is Called, 'The Lord is There.'"
Those churches announcing the event include Grangeville Christian, Evangelical Free, Gospel Tabernacle, Abundant Life, Calvary Chapel, City Gates and Living Waters Fellowship.
The pre-event runs Monday, Aug. 10 to Thursday, Aug. 13, 6-8 p.m., where individuals and prayer teams can come during the evening for prayer and worship. The main event is Friday through Sunday, Aug. 14-16, with worship gatherings each night at 6 p.m. On that Friday and Saturday, at 10 a.m. and 2 p.m., organizers will be conducting worship workshops with local teams.
On these workshops, "We'll sit down with the teams and have a conversation on what it looks like to minister to the Lord," Stevens said, "we'll worship with them, and debrief afterward." While focused on teams, individuals are welcome to also attend.
The event is made possible due to Circuit Riders Tent Ministry, which is providing the structure. According to Stevens, Open Air Worship led the 2020 Awaken the Dawn "100-day Procession" event in Lewiston, and following that, the tent ministry organizers – who were also at this event -- prayed about where they should put their tent next.
"They got a vision of our team leading worship, and they called me and said, 'Wherever you want to put the tent and whenever, we will get it there.' We couldn't even dream this big, but the Lord totally opened this door and totally made a way for this to happen. We just witnessed him being a part of this from the very start."
Stevens said the event is simply straightforward praise and worship. While there was some discussion to add elements such as youth programs and evangelism, they didn't want to make it complicated.
"There were good options, and we were in favor of them," he said, "but we really felt the most important thing to do right now as a community, coming out of this COVID stuff, is to make a place for the Lord to dwell, and for him to be welcome in our midst."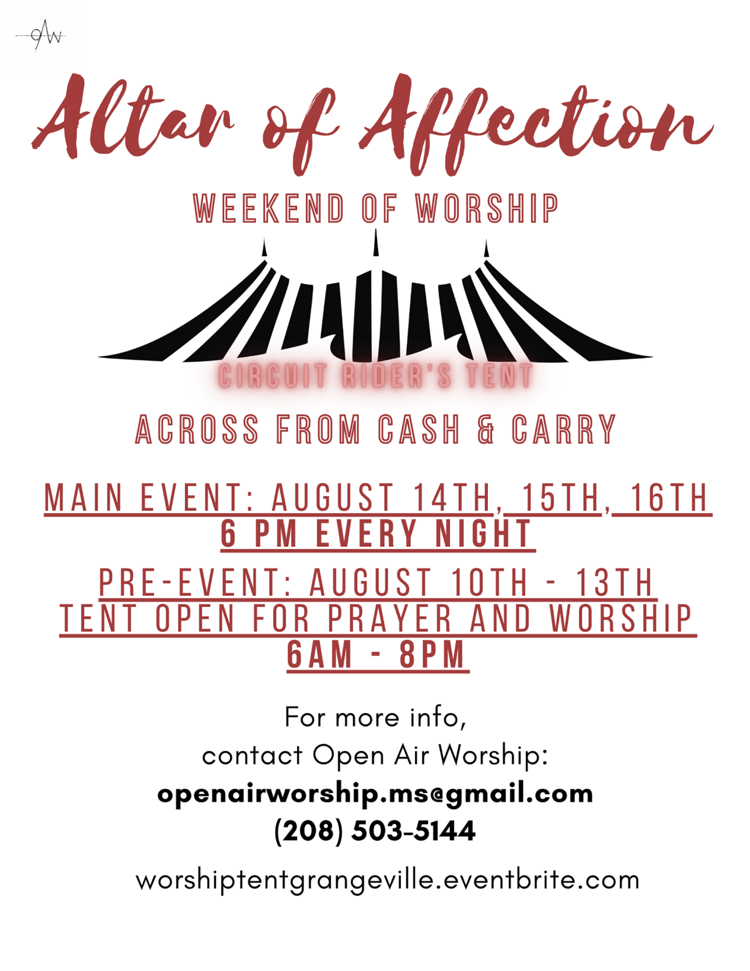 The event will include prayer ministry and tent staff to assist attendees. Locating the event should be easy, according to Stevens.
"You're not going to miss a 300-person tent sitting on Main Street," he laughed.