CLEARWATER VALLEY -- After a year of intense fundraising, the Teen Center in Kamiah opened, to much fanfare, last September. Area teens identified a teen center as a high priority a few years back and worked hard to make it happen.  The popular center has outgrown their space and will relocate to 405 Main St. on Aug. 1. The Teen Center is one of the best success stories in Kamiah, with something always going on there. I believe that it works because the young people on the Youth Advisory Board (YAB) come up with the ideas and the adults help turn the ideas into reality (instead of the grown-ups telling the kids what to do). The Teen Center is offering tween time, for students in grades 3-6, on weekdays, 10 a.m. to noon, throughout the summer, with a different activity each day. Great job teens! Maybe we should start listening to young people's ideas more often.
Last year, the YAB and UYLC sponsored popular free movies at Riverside Park throughout the summer. Movie night is back with a Thursday, July 30 drive-in movie showing of Scoob (rated PG). Scooby and Shaggy, with the rest of their famous Mystery Inc. detective agency, face their most challenging mystery, a plot to unleash the ghost dog Cerberus on the world. Watch as the gang races to stop a global "dogpocalypse". This new movie will begin at dusk, at 2114 Hill Street in Kamiah. Ted's Valley Auction and Kamiah Elementary School PTO co-sponsor this free, family-friendly event. Contact the YAB office at (1) 208-743-0392 or by email upriverylc@gmail.com for more information.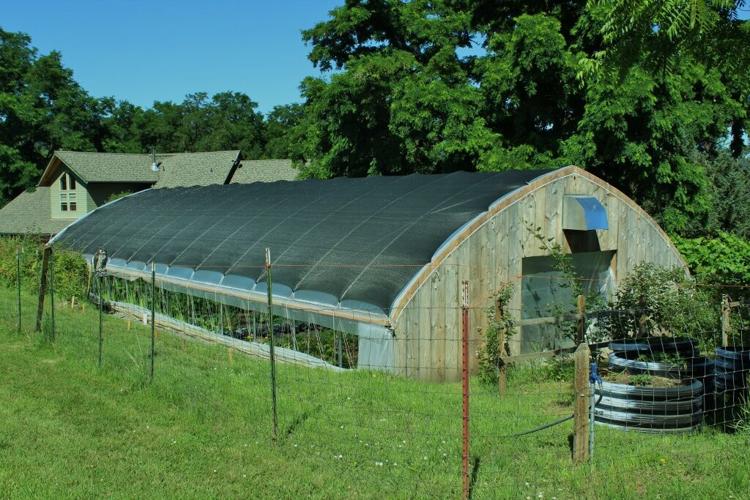 Last week, I stopped in to see Cindy Lane, my Harpster area neighbor, and check out her high tunnel, large (72' long, 30' wide) greenhouse-type structure she, and her husband, Bo, installed last summer. The tunnel (Zimmerman brand) allows her to begin her garden about six weeks earlier than she used to, since it keeps the underlying ground warmer and drier. At the first Kooskia Farmers' Market of the season, in early June, I noticed that in addition to swiss chard, kale and lettuce, she sold sugar snap peas, zucchini and kohlrabi, a lot of produce for the early June.
I enjoyed my tour of her wonderful garden area, both inside and outside the high tunnel. Bo customized the high tunnel, adding home-milled lumber to the end walls and overhead lights to allow for nighttime harvesting. Cindy produces much of her family's vegetable and fruit needs, selling the excess at the Farmers' Market. She cans and freezes extensively for winter supplies. She avoids using chemicals, using companion planting such as dill in her cabbage beds to confuse the insects, basil with her tomatoes to increase production and intermixing flowers with vegetables to encourage pollinators. Cindy noted some challenges with growing under the tunnel. The higher humidity inside can lead to some diseases. Pollination can be a challenge for some plants such as cantaloupe, which she has learned to hand-pollinate. She runs a large fan near the top of the end panel, a few hours a day, to increase air circulation. The side walls can also be partially rolled up. Most of the area under the tunnel is planted in the ground, with a few raised beds.  Outside the tunnel, she grows pears, peaches, grapes, cherries, apples, apricots, raspberries, strawberries, blackberries and blueberries.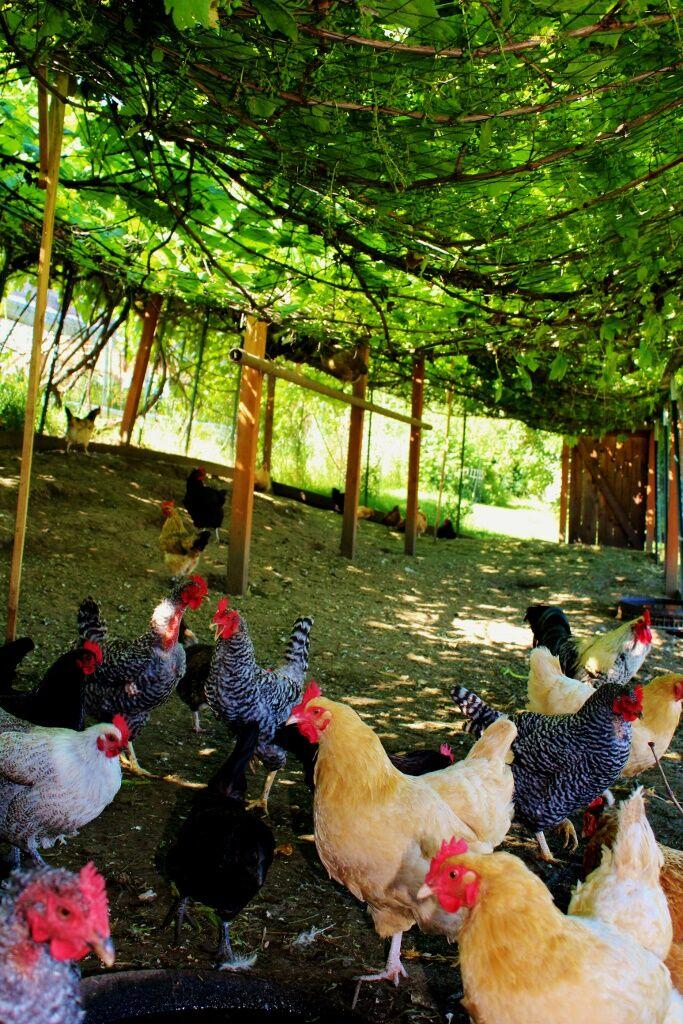 Lane, a market gardener, offers vegetables and fruits for sale at the Lane's Harpster Homestead booth, at the Kooskia Farmers' Market, on Thursdays (10 a.m. to 2:00 p.m.), at the city park. When she has sufficient produce, she also has a booth at the Grangeville Farmers' Market, on Saturdays. With a flock of 45 chickens, whose run is shaded by a grape arbor, Lane also sells eggs.
For anyone wanting to consider a high tunnel, which come in a variety of sizes, the Natural Resource Conservation Service (NRCS) offers a cost-share program for people planning to grow food in their tunnel. The upfront cost of the structure is an investment, but the longer growing season can be a big benefit, especially for a market gardener.
With the cancellation of several popular Clearwater Valley events this summer, some of the people who enjoyed them in the past are understandably disappointed. As someone who has organized various community activities over the years, I can empathize with the volunteers. Each group evaluated whether or not to hold their event. Anyone organizing an event, whether Stites Days, Kooskia Days, or Barbecue Days or Elk city Wagon Roads Days want a good turnout and for people to stay healthy. We are blessed with millions of acres of National Forest lands waiting to be explored, so no reason to get bored on a weekend. If the traditional summer town events come back next year, maybe some new volunteers will come forward to create bigger and better events.