CLEARWATER VALLEY — The election is over, and most of the campaign signs have disappeared from the landscape. Some people have accepted the results better than others. The reality is we will have a new president on Jan. 20, 2021. It is difficult to acknowledge that your worldview is not popular with your fellow citizens at the local, state or national level. I think what gets lost in the drama is that the people we elect are supposed to serve the public, not themselves and some lose sight of that fact.
At the local level, we have elected Clearwater Valley's own Doug Ulmer as our new Idaho County sheriff by a resounding margin in both the Republican primary election last spring, and the general election. From what I hear, he has travelled to the farthest reaches of the county to meet people and listen to their concerns during the last year and a half since he announced his candidacy. I am optimistic that he will approach his job the same way he approached his campaign, listening to a variety of people.
Since the realignment of county commissioner districts, Skip Brandt, who ran unopposed, will continue to represent most of the Clearwater Valley portion of the county, but newly elected commissioner, Ted Lindsley's district will extend from Grangeville to include the Harpster area. I hope they will all do their best to represent all of us in the county and wish all of them well in addressing the challenges that lie ahead.
The Kooskia Winter Farmers' Market has been canceled due to Governor Little's new order limiting sizes of gatherings. Market manager, Melissa Knapton is disappointed, but plans to encourage holiday shopping from local vendors by featuring them on the Kooskia Farmers' Market website and on Facebook. We can make a choice to support our friends and neighbors in our shopping. We have some talented artisans and food producers with quality products.
It is strange to have a traffic light in Stites. Though the culvert replacement project seemed to be forging ahead a few weeks ago, I haven't seen much activity lately. It will be great to get this done to reduce the risk of flooding in Stites.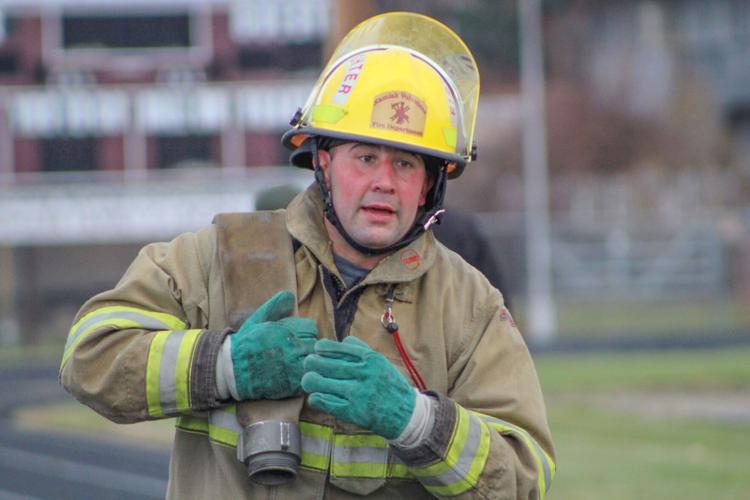 During the weekend, I went to Kamiah to cover the fitness test for the eleven applicants for the new paid firefighter and EMT positions. Chief Bill Arsenault, who began his job Nov. 2, led the test, with help from volunteers. Fun to watch them go through the paces of an intense challenge, running up the stadium steps with fire hoses, hoisting a hose with a rope to the top of the bleachers, driving tire with a maul, unfurling a 100 foot fire hose along the track and dragging a dummy backwards for 50 feet. Great to see the applicants fired up about the test and encouraging each other. I hope Chief Arsenault can make some great hires out of the group.