CLEARWATER VALLEY -- I was excited to go to both the Kamiah and Kooskia libraries last week. Although the physical libraries remain closed to the public, they are offering curbside pickup of books on hold. Several that I placed on hold in March were released to me. It was like having an early birthday. Although I still have a few unread books in the house, as the daughter of both a librarian and a history teacher, I can't have too many books around.
Since local libraries aren't doing groups or clubs yet, I joined, via Zoom, my sister's writer's group at her library in Massachusetts. Great to connect with these women from another part of the country and hear their stories. Some of them were a bit envious of all the open space and freedom we have here. One commented, "Wow, it sure sounds peaceful!" It is peaceful, until the springtime sounds of ground squirrel shooting commences in the neighborhood.
I stopped to pick up my weekly pizza and the Silver Dollar in Stites. They are excited to be opening this weekend and are working on plans to meet the new guidelines for spacing. The staff appreciate people continuing to support them through take out hours. It's a perfect time of year for folks to enjoy the outdoor patio there.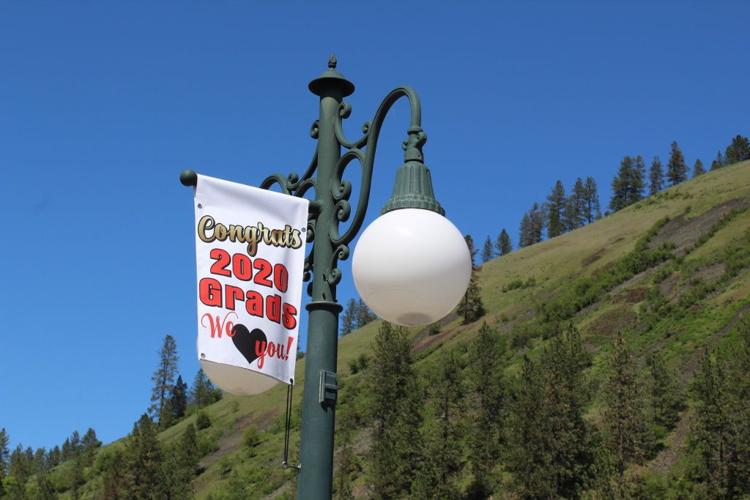 I learned from Lara Heidtmann-Smith that she and the others on the Kooskia Chamber of Commerce printed vinyl signs of each of the Clearwater Valley graduates and hung the signs from the lampposts in downtown Kooskia. I had to check it out and share a few photos. Look up the next time you are walking on the sidewalks of Kooskia. What a great way to honor this year's grads. Thanks, Kooskia Chamber volunteers, you do a lot of good things for the community!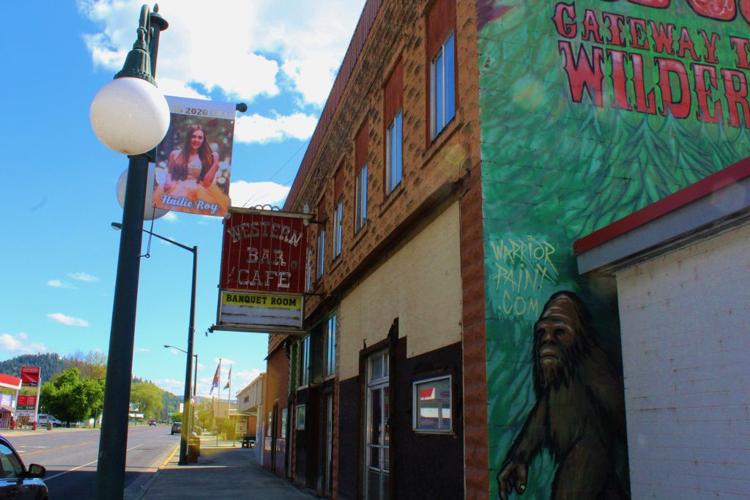 In other news about teenagers, as the Teen Center in Kamiah prepares to re-open in June, they need to fill an important job to join their staff. For information, check out the Upriver Youth Leadership Council's (UYLC) Facebook page for a job description. They need a self-starter who can relate well to teenagers and pre-teens for the Teen Center and Youth Activity coordinator. No phone calls.
Linda Winters reported that the Friends of Elk City Wagon Road and the Clearwater Grange are planning two events in Clearwater.   The "dessert at the museum" event, normally held Mother Day weekend, has been rescheduled for May 30, from 1-4 p.m. It is a good excuse to take a drive up the hill, check out the Elk City Wagon Road museum at the Grange Hall and enjoy a dessert and a beverage. Anyone is welcome and spring is a pretty time up there.
If you've cleaned out some closets or sheds while you were spending extra time at home, now's your chance to find a new home for your surplus stuff. A community-wide Yard sale is planned on June 13, from 8 a.m. to 4 p.m. Anyone near Clearwater can sign up and be included on a yard-sale map that will be printed and available at the Grange Hall that day. The map may help the treasure hunters to find your place. Even in places where cell phones work well, the online maps can get wonky so a printed map is a nice touch. People with a smaller array of stuff can rent a space at the Grange Hall for $10. Call Carole Bonono at208- 926-7465 to rent a table space at the Grange. You can call Carole, or Sue Smith 208-926-4278, or Linda Winters at 208-926-4606, to be added to the garage sale map.
As local businesses transition into re-opening and navigating the new normal, I hope we will all try to be kind and patient with each other. Let's stop trying to find someone to blame or dwelling in conspiracy theories about why we are here. Let's support each other and do our best to recover our small businesses and communities. And, remember to request your ballot from Idaho County Clerk's office by the 19th and to vote. If you don't vote, you give away your power to the minority of registered voters who always vote.