COTTONWOOD — Happy Valentine's Day to all of you! Do something nice for your sweetheart this week.
Work on the new addition at St. John Bosco Academy is progressing very well. The daycare has already moved into a new, larger space. The new chapel, which is much larger than the old one, is close to being finished, but still needs work. Bishop Peter Christensen is scheduled to be here for the chapel dedication on Mar. 2, at 10 a.m. A reception and tours of the new addition will follow the Mass.
Christ the King Daycare, located on the St. John Bosco Academy campus is now open in an expanded space. The new space is located in SJB's new addition, and has twice the area of the former daycare. There is a dedicated area for infants included in the new space, as well as a play area for older children, and space for meals and snacks. This is a licensed child care center and an authorized Idaho Child Care Program (ICCP) provider. Openings are available for all ages. Call Denise Mager with questions or to schedule a visit: 208-962-3363 or 208-507-1194. The picture shows the space as the finishing touches were awaiting installation.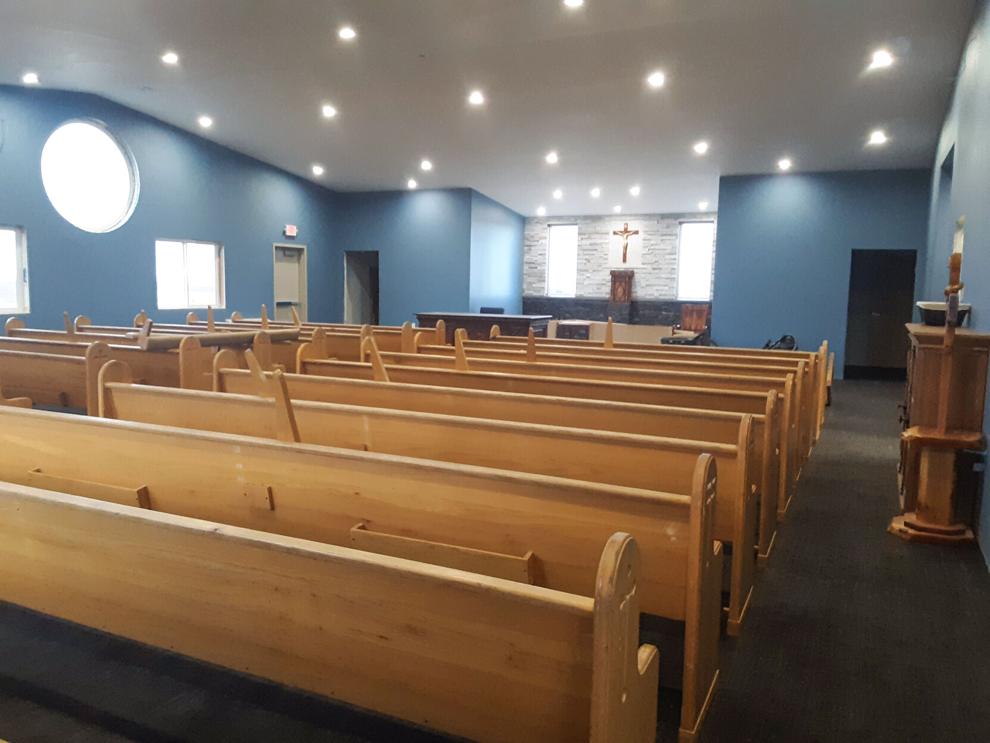 St. John Bosco Academy will expand into a new wing early this month. The addition includes classrooms for preschool through first grade, the new daycare space and a new chapel. For the last few years, several classes have met in undersized, temporary spaces. The addition will allow teachers and students to move into a full-size traditional classroom setting. SJB students attend Mass at St. Mary's Parish each Thursday morning, and also attend Mass each Tuesday at the on-campus chapel. Four local priests rotate throughout the month to celebrate the Masses. The new chapel's dedication Mass with Bishop Peter Christensen is scheduled for March 2 at 10 a.m. The Mass is open to guests, with a reception and tours of the new wing to follow. Pictured is the new chapel with pews awaiting permanent installation.
If you would like to donate to the Holy Cross Raffle, contact Glenn Poxleitner or the Tri-Parish office at 208-962-3214. No dinner is scheduled for this February.
Crab Feed & Tri-Tip Dinner, hosted by the St. Anthony Society, will be held on Mar. 20! The band this year will be Vintage Youth. Social begins at 5:30 p.m., with dinner starting at 6:30 p.m.
The Cottonwood Credit Union, B&A Auto and The Habit all have tickets, $30 per person. Join us at the Greencreek Hall for this wonderful meal and a fun evening! Those who want to come later for only the music and dancing, the cost is $8 per person.
Mass times for Ash Wednesday are Feb. 16, Tuesday, St. Mary's at 6:30 p.m.; Feb. 17, Wednesday, St. Mary's at 7 a.m.; Feb. 17, Wednesday, Assumption, at noon; and Feb. 17, Wednesday, St. Anthony at 6:30 p.m.
This will be my last article. Is there someone out there in the Cottonwood, Greencreek or Ferdinand area who would like to take over for me? The people who run the Idaho County Free Press are great to work with.