ELK CITY -- Treat your sweetie to a night out. The VFW Post and Auxiliary is having its traditional Valentine's Day dinner on Feb. 15. Dinner includes steak, salad, rolls, and desserts. Cost is $15 per person. Be sure to call and make reservations.
For those of you with a green thumb, and mine sure isn't, will appreciate this. My orchid is going on three years of continuous blooming! See photo.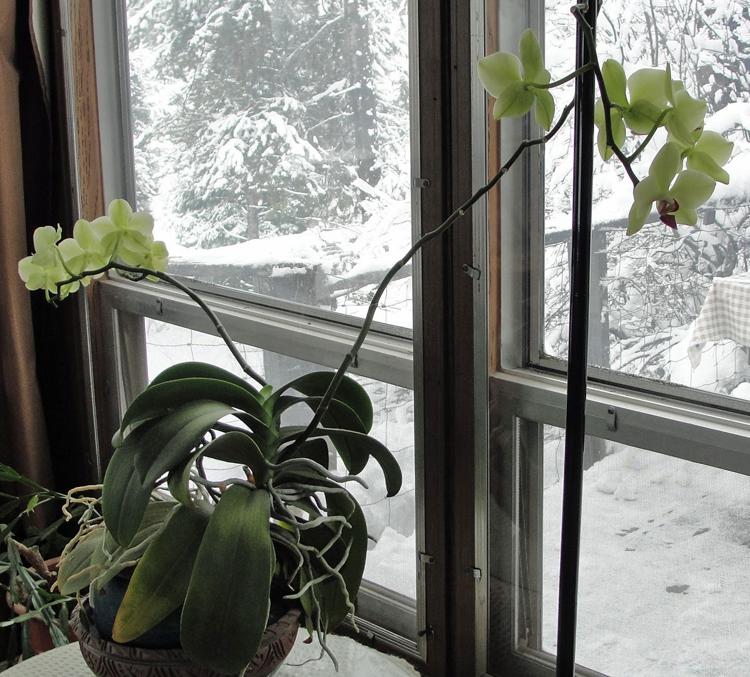 Snow continues to pile up around here. We got another couple feet of the white stuff in the last week!  This snow is very heavy with water. It's almost like a "normal" winter, something that hasn't happened for a great many years. Some areas down along Highway 14 appear to be "leaking" heavily, with three or four locations that muddy flows have crossed the highway. With all the water that's in the ground, it will be interesting to see if our slide area from 2016 will stay intact. It was late February when it gave way back then and there appears to be some sluffing happening up the hill in the bowl area.
The snow buildup means a lot more shoveling and digging, not only for those who have to use shovels, but those that use hooves, claws or talons. The elk have started stripping bark off the saplings around here. The Mountain Meadows snotel indicates more than eight feet deep at that 6,000' location. Have seen a lot of sleds coming up the highway this year.
Dr. Secrest from St. Mary's Hospital will be in Elk City on Wednesday, Feb. 28. Call 208-962-3267 for an appointment.
Meetings: American Legion on the 12th; VFW Post and Auxiliary on the 13th.
Birthdays: Steve Brand, Ciera Enos, and Davy Lamar.