I did not enjoy summer camp. My parents "encouraged" me to go to Nazarene girls camp each year for four or five years, and I did. The activities were fun enough; it was the nights that got to me. I wanted to be home with my parents. Camp was not fun for me until my "friend since the womb," Kim, and I, became counselors during high school and college. Now, those were good times. However, that's not what this column is about.
When I started my freshman year at Northwest Nazarene College (NNC, now university, or NNU), in Nampa, back when we were still the Crusaders and not the Nighthawks, I felt that same "camp" pit in my stomach after our parents helped us (again, Kim and I) move in and then drive away. Let's face it — it was like camp all over again, and I was terribly homesick. I was 10 hours from home and those first two weeks were rough.
Then something happened, and my outlook literally changed.
Kim and I signed up for the SACK (Sponsor A College Kid) program through College Church of the Nazarene, located adjacent to the NNU campus. And, one magical night in 1986, we were paired with Mike and Carol Poe and their two children, Jayna, 3, and Robby, 6 months (a few years later we would all be joined by baby Malinda).
Jayna held conversations with us like a mini adult, and Robby scowled — then laughed. And Mike and Carol? The most perfect, laid-back, congenial people we had ever met. No pretenses. No awkward silences. Just pure comfort. Kim and I had spent much of our lives in church, and, now, in college, we'd found family again, this time 600 miles from home.
Mike and Carol will tell you we enriched their lives; but let me tell you, they saved ours. They were not just our SACK family. They became our best friends. The moment we met them, my homesickness dissipated.
Kim and I still met and made many friends, joined campus clubs and activities, went to classes, studied, and participated in dorm events, but the Poe family became our center, our rock.
That first year-ish, we would frequently walk to their little house on the edge of campus. Later, they moved a few miles from NNU, and we loved "our" new, bigger, fenced-yard home, where we would frequent to watch movies, make dinner, picnic, barbecue, baby-sit, study, do laundry, cry on a comforting shoulder, talk and laugh. We celebrated birthdays, Thanksgiving, Christmas, Easter and life events together. We had our own house keys. We went to the zoo, roller skating, pizza, to visit the kids' grandparents and great-grandparents and more. We experienced the birth of our little SACK sister, Malinda.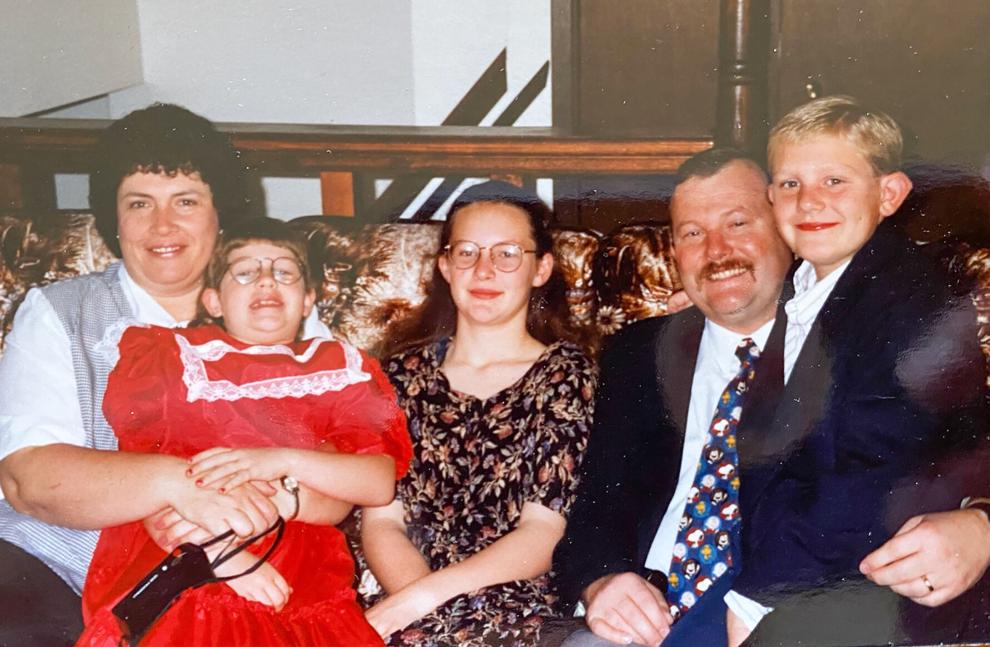 Four years later, we graduated, and our party was, where else? At the Poe house. Our families had grown to love one another, as well. It was difficult to say goodbye, but, at the same time, we really didn't, because, 35 years later, we are still close. Mike Poe (he and Carol have both been employed by NNU for years now) stayed over at our house recently on his way to Pomeroy, one of many visits throughout the years. And, guess what? Our baby-sister, Malinda, is getting married this summer, the youngest and last of the Poe kids to do so. Wow.
So, besides a nice trip down memory lane for me, here's what I really wanted to emphasize: Never underestimate the impact you may have in someone's life. You may think it's a duty or you may think you don't have time, but know that the time you spend on someone who is struggling can change the course of her life. I know this, because, had I not met the Poe family at precisely the right moment, I may very well have ended up quitting college and heading home. Instead, I had four fabulous, adventure-filled years that ended with a BA in English literature and a 35-plus year friendship.