GRANGEVILLE – The fate of the 2021 Idaho County Fair royalty is cinched, with the results to be released Aug. 21 at the fair royalty crowning night.
The royalty luncheon and candidate interviews were held at the Grangeville Church of the Nazarene Wednesday, Aug. 5. Judges Roger and Verla Nelson, of Clarkston, Wash., and Shannon Ankey, of Lewiston, have made their choices and sealed the outcomes in envelopes which will not be opened until Friday night, Aug. 21.
Current royalty, queen Halle Klapprich, and princesses Paige Layman and Madison Shears, as well as candidates Kaylee Doughty, Olivia Klapprich, Leann Lightfield and Dani Sonnen, each gave their speech at the luncheon. The candidates were also individually interviewed by the judges who looked over their applications as we well as observed them at the luncheon as they answered impromptu questions and interacted with attendees.
"It's definitely been a strange year," Idaho County Fair Queen 2020 Halle Klapprich said. "We missed out on a lot due to the virus, but we made the best of it."
"We cannot always control the things that happen to us, but we can control our responses to those situations," she went on. "I have learned so much this year about communication and problem solving."
"The setbacks this year did not stop us from having a good time," first princess Paige Layman said. "Being Idaho County Fair royalty is the icing on the cake," to everything else.
"I was bummed to miss out on some events," second princess Madison Shears said, then offered advice to the four candidates: "Don't be afraid to be yourself."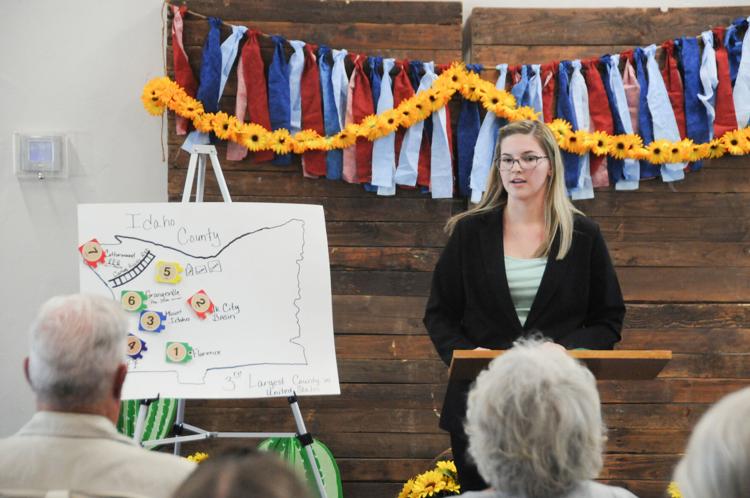 Kaylee Doughty, a Grangeville High School senior, likened her life experiences to a puzzle that makes up the history of Idaho County.
"After 23 years as the stock show, it was renamed the Idaho County Fair in 1965," she relayed, sharing some of the fair's past.
Olivia Klapprich, a Prairie Junior Senior High School junior, explained the puzzle pieces of her life, including the broader categories of faith, family, environment and her own personality.
"My life experiences form all the pieces of my puzzle and highlight my individuality," she said.
Leann Lightfield, a PJSHS senior, said she overcame great shyness to have the courage to try out for royalty, in part due to her experiences within 4-H.
"4-H has encouraged me to be more open and to become the best version of myself," she explained.
St. John Bosco Academy senior Dani Sonnen recited the 4-H Pledge and told what it has meant to her, including valuable lessons in self-confidence and sportsmanship.
"The best way to change the world is to start with yourself," she ended.
Idaho County Fair royalty chaperone is Joyce Gehring Sonnen. The public is invited to crowning night, Friday, Aug. 21, 6:30 p.m., in the Schmidt Building.