GRANGEVILLE — Area resident Rosalie Jessup developed a calendar with photos of the family dog, Jasper, as a fund-raiser for ARF (Animal Rescue Foundation).
Jasper is a 4-year-old Labradoodle (a Yellow Labrador and Standard Poodle cross.) He weighs about 120 pounds and "believes that strangers are only friends he has not met yet," smiled Jessup. "Jasper is exuberant and gentle at the same time. When someone comes to the house to visit, he will bark wildly and then race back into the house to get a toy to show to the visitor."
Jessup has been photographing Jasper since he was newly adopted as a young pup. She said his golden eyes and gentle, cooperative nature made him an easy subject for pictures.
"I don't remember when was the first time that I dressed Jasper up in a fun outfit for a photoshoot, but he was happy to be part of the project from the very start," she laughed. "Pretty soon, he had learned to offer me a paw when he saw me coming toward him with a shirt or a dress. Even hats are fine with him, though they tend to slide off the side of his head. Sometimes we employ an elastic band or a chin strap. The last time I photographed him in a Vandals student costume, he was wearing a pair of glasses. When the glasses started to slip off, he wrinkled his nose and wiggled them back into place. That's cooperation!"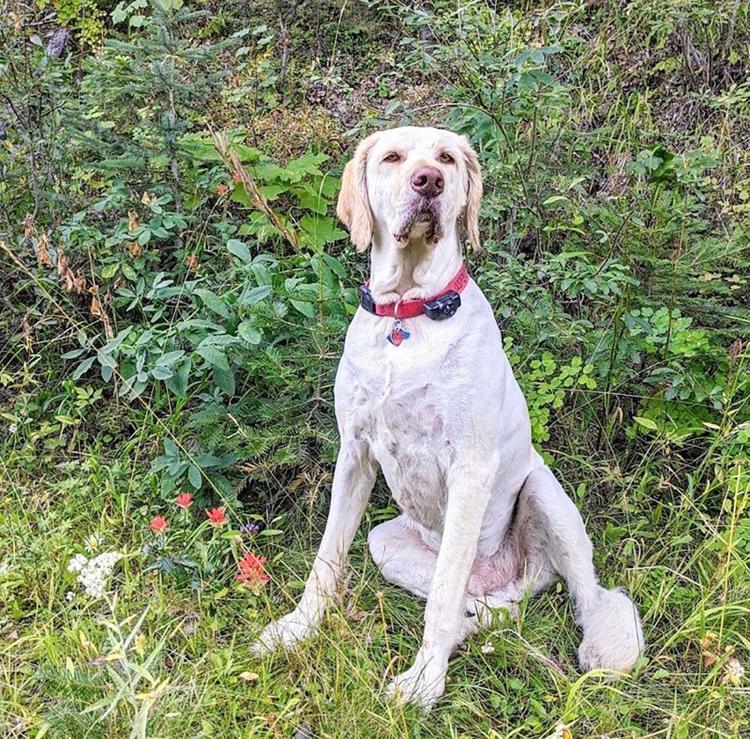 Jessup said she realizes Jasper cannot understand the concept of photography; however, he does understand when the dress-up outfits and a camera come out, there is always a treat involved somewhere, "or maybe even a few treats," Jessup admitted.
"One of the biggest challenges in photographing Jasper is to get him to change expressions. He normally adopts a very serious pose — after all, this is serious business. Sometimes the grandchildren can get him to laugh or loosen up a bit, but normally, he is as serious as a heart attack," she explained.
"This dog makes us laugh every day, and because of that, he is worth his weight in gold. Of course, he is like any other dog, and he is mischievous, steals food, chases cats, chews up boots, etc. But we believe that he has enriched our lives in many ways, and we are so grateful to have him as part of our family," added Jessup.