Tucked in a brown paper sack in my mother's upstairs bedroom closet, I discovered another tattered brown paper grocery sack, rolled down and labeled "Dave – Vietnam."
Following her death in 2017, I had slowly gone through bags, boxes and suitcases of photos, art projects, report cards and other mementos. I discovered silver dollars taped in birthday cards from my Idaho grandparents, cards and newspaper clippings from my Washington grandmother, pictures drawn by my brothers, stories written by me and more. So, finding another jewel hidden away was not a surprise.
I unrolled the newest treasure and discovered inside the brown bags another bag, this one a plastic Wonder Bread sack (my mom was famous in our family for being a saver of things – bags, string, paper, containers, etc.) and unearthed a bundle of red, white and blue Air Mail envelopes. More than 40 letters written by my dad to my mom when he was in Vietnam and she was in Washington state.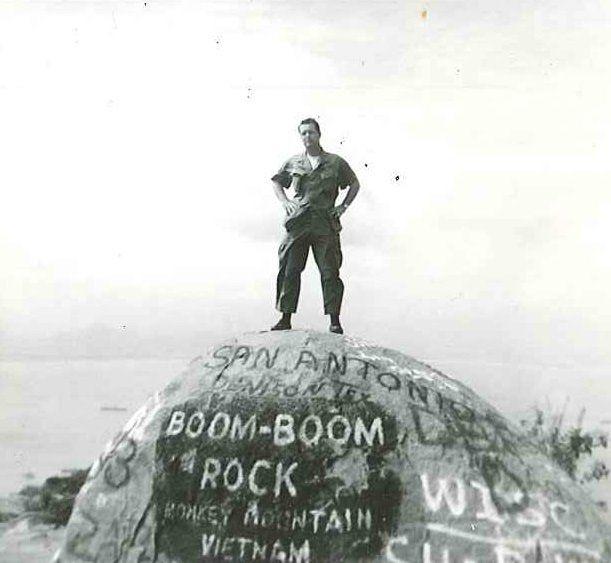 The envelopes held the familiar cursive of my father and brought back a rush of memories. He died in 2006 and I hadn't realized how much I missed those sweeping yet precise curves in his handwriting.
During the next month I would read a letter or two every night before bed. At times I felt like I was invading a private world. My dad was stationed in Danang, Monkey Mountain. My mom was in Northwest Washington with two little boys -- my brothers, ages 7 and 10 -- her mother, a dog and a cat. Nestled in a mobile home trailer in the woods, she was also pregnant with me. The hardships of being apart were evident in each letter.
My father volunteered for his tour of duty in Vietnam. Knowing this when I was old enough to understand at first did not make sense to me. Why would anyone volunteer to leave their family for a year? To not be there for the birth of his child? Of course, we all know those are the sacrifices military families make over and over again. My family was not unique. In 1967-68, volunteering to go to Vietnam meant a fairly substantial raise in pay. My dad was willing to take the risk as he and Mom were purchasing property in Custer, Wash. (This would be the ideal place to grow up, on seven acres near the Canadian border, and in later years I would come to fully appreciate what my parents forfeited to make this happen). Dad spent 20 years in the Air Force, and this service would earn him and my mom retirement and disability pay, as well as lifelong health care.
There are many things I learned in reading these letters. My dad was lonely. He did not enjoy his time in Vietnam. He would have rather been with his family. He counted down the days until his tour would be over. In the meantime, while his friends amused themselves in the officer's club or in town, he worked hard. When his radar technician skills were not needed, he dug trenches, worked in the library and drove high-ranking officials to and from combat zones. Every little bit of extra money he got he either sent home or, sometimes, purchased items such as my mom's Noritake china.
I learned my brothers were a bit of a handful for my mom at times, due to the answers my dad gave her on what to do, or the letters he wrote to the boys. I learned the politics of war are difficult and my dad often wondered what was going on – for real. I saw how life in the service can keep you off-balance, not knowing where you will be stationed next or what exactly to plan for.
I also saw the familiar names of the Lynden and Grangeville Church of the Nazarene families I had grown up with as my dad mentioned their letters, cards and care packages to him while he was overseas.
The letters were a glimpse into the life of my parents at a time I did not know them. The hopes and dreams and some of the difficult conversations on finances, personal issues, child-rearing, in-laws and life choices in general. The words of my dad showed me what I already knew, but rarely like to admit: he wasn't perfect. He didn't always say the right things or react in the best ways. However, in the end, it didn't really matter, because what shined through his letters most of all was that he loved and missed his family and wanted to be with us.
He got the news I was born the day after I arrived (Vietnam being 15 hours ahead of Bellingham, Wash.). He expressed his gratitude to God for a healthy baby, and, especially, for a girl. I was born June 8, 1968, and finally met my dad when he returned home eight months later, February 1969. It was love at first sight, for both of us. You just have to trust that I remember.
Letters are a personal history that provide a perspective we may not otherwise get. Several of my dad's letters left a lump in my throat. I tried to imagine going to bed with mortar fire in the background, "brighter than any Fourth of July fireworks you can imagine." I also chuckled to myself when Sarge (my dad) told Mom how to budget and gave her advice about being snowed in and taking it easy on their VW station wagon. I finally saw in his writing the story I had heard about so many times – the large candy cane sent by our friends, the Calmans, that had ants crawling through it by the time it arrived. Upon throwing it away, the Vietnamese lady who cleaned the barracks begged him to let her have it. He told her it was no good, but she persisted and told him she wanted it for her children. He finally gave it to her, and she continued to thank him over and over again. That story always breaks my heart.
I wish I could see my mom's letters to my dad and have a whole picture of the conversation between the continents. But I haven't yet discovered those pearls. We're still finding things, though, so who knows? In the meantime, I treasure these words penned in those long 12 months spanning from February 1968 to February 1969 and smile at the start of each letter: "Hello, Sweetheart."
Lorie Palmer has worked at the Free Press for 24 years. Her father received the Bronze Star and the commendation medal (twice) for his military service in the United States Air Force. Lorie feels her mother, a military wife, deserves just as much credit as her father.