When I walked in to the multipurpose room at Clearwater Valley High School the other day, the excitement was palpable. 80-plus students from four local junior high/middle schools competed in the first knowledge bowl competition of 2019. In case you are wondering, knowledge bowl tests the collective brainpower of six-person teams. Fourteen teams fueled by plenty of snacks and soft drinks each sat at a table with an adult moderator to document correct answers. Clearwater Valley teacher Vinnie Martinez asked the questions from the stage while Susan Graves, CV Parent Teacher Organization member, recorded the scores. The competition included three rounds of 15 questions each.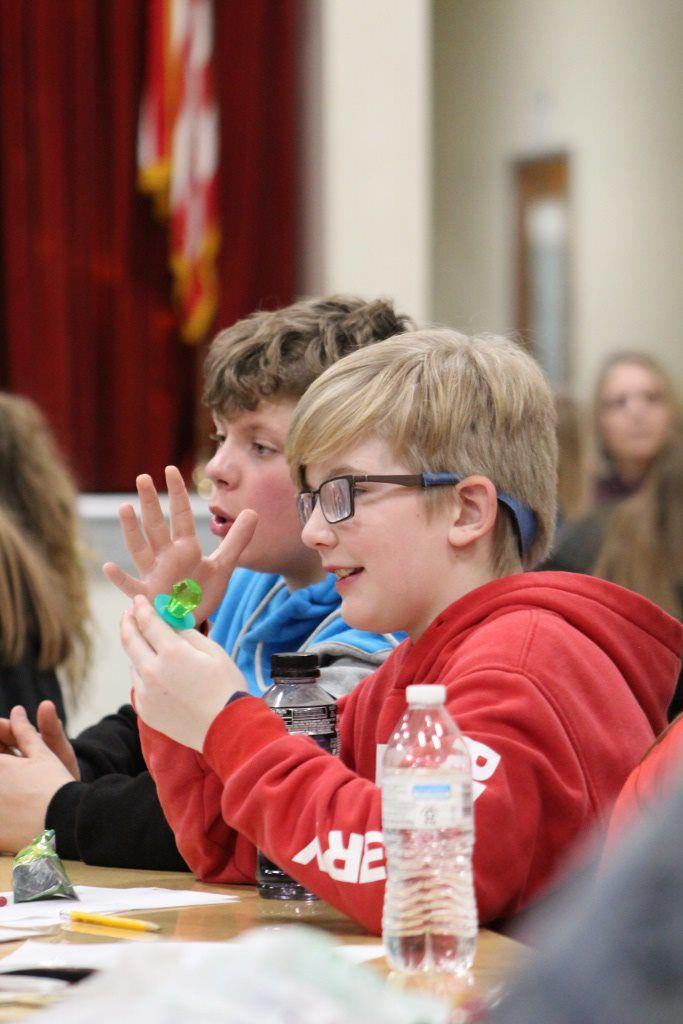 Team No. 6, an all-girl team from Kamiah, triumphed, scoring a total of 223 points, 68 points ahead of their nearest competitor. Congratulations to Logan Landmark, Viviana French, Kami Sanders, Mea Johnson, Mariah Porter and Reesa Loewen for a great competition.
What a treat to see so many students excited about knowledge and an event encouraging the collective brainpower of a team. When a team got an answer right, both high-fiving and hooting/hollering often ensued. Questions ranged from geography: "What is the deepest point in the ocean?"; history, "Who is the youngest person ever elected U.S. President?"; sports "Which five Idaho schools have collegiate level baseball teams?"; and math, "What is the square root of 676 divided by two?" I even knew some of the answers like "Which U.S. State is called the Sunflower State?"
The competition included five Kamiah teams, two Clearwater Valley teams, four Nezperce teams and three Grangeville teams. Knowledge bowls will continue monthly for the rest of the school year. Kamiah team advisor Jennifer Heitman has revived the program in the past few years for both Kamiah middle school and high school and is happy with the success of their teams this year.
Megan Wilson, a nurse practitioner at the Kamiah Clinic, placed second in the 50-59 year old age group at the recent Freeze your Fanny 5 kilometer fun in Lewiston. She sets a good example for her patients by exercising and a little healthy competition to keep motivated.
Vest Fest IV is coming up on March 9, at the Kooskia Community Center. VEST stands for Valley Educational Support Team. Proceeds go to benefit Clearwater Valley Schools. Tickets are $25 and are limited, get yours now. Available from Dave Harrington, Veda Pfefferkorn, Kama Pfefferkorn Payton, (high school office) Cindy Dahler, Kevin Dahler and Lara Heidtman Smith have tickets. The same folks would love to hear from you if you have an item to donate for the auction. A catered dinner, auction and dancing are planned for the evening.
Last weekend we attended the Frank Church Selway-Bitterroot Foundation event in Clarkston. The Foundation honored the memory of Connie Saylor Johnson, a longtime wilderness ranger and teacher who inspired young people to appreciate wilderness over the decades she spent working in and around the Selway-Bitterroot Wilderness.