CLEARWATER VALLEY -- Last week I attended a Mountain View School Board meeting live instead of just watching on video. Clearwater Valley (CV) Associated student body (ASB) vice-president Martha Smith delivered the first public comments. In her heartfelt thoughts she laid out for the board how important it was to the students at Clearwater Valley for their beloved teacher, Vinnie Martinez, to be there next school year and implored the board to renew his contract. After Smith's powerful speech, spontaneous applause broke out in the room, with many of the nearly 100 people jumping to their feet. ASB president Dakota Gorges followed with equally inspiring comments about Martinez's value to the students. ASB treasurer Emma Knapton also attended with the CV ASB trio sitting in the front row. Although many in the assembled crowd were moved to tears by the students' compelling speeches, the board did not change their decision on Martinez' contract. For my part, I thought the teenagers showed leadership, character, integrity and grace in their comments and their continued support of their teacher. Can you imagine in your own teenage years having the courage to speak in front of a large group? Some people can't imagine doing that now as adults.
I stopped by the Life Center's recently reopened food bank to drop off some donations the other day. I arrived shortly after they opened and 15 cars waited in line, backed up almost to the highway. They reopened on May 23, and are open every second and fourth Thursdays from 10 a.m. to noon. People with emergency food needs in between those times can call 208-935-0362 extension 1 and leave a message. Since I mentioned this food bank in my column last month, people have asked me, how do they know if people really need the food? If something is free, some people may abuse it. The question I ask, is would you rather feed someone who doesn't need it, or not feed someone who does?
The Upriver Youth Leadership raised $10,000 at their recent fund-raising breakfast which will go toward the planned July opening of the teen center. Wonderful to have a teen center, so teens will have a fun, safe, supervised place to hang out after school and days off. It would sure be great if next year, more people would step up and vote to fund the schools by voting for the Kamiah school levy.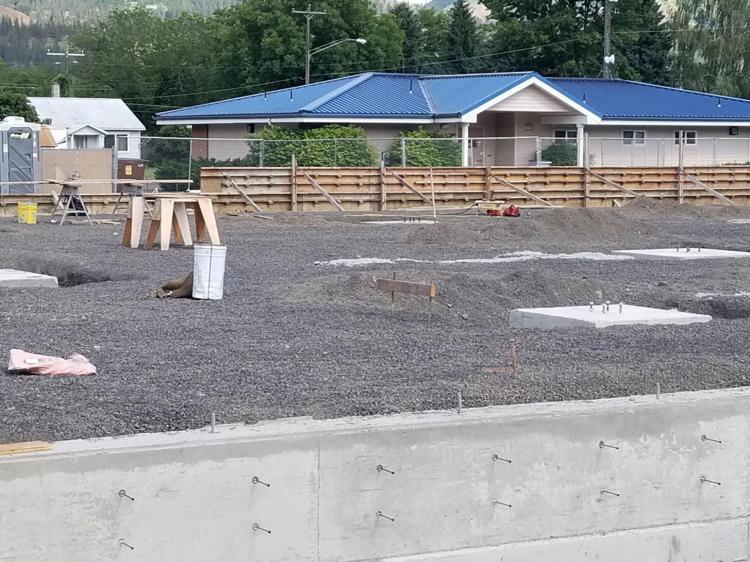 I hadn't been to Kamiah for a few weeks so I stopped by the St. Mary's Kamiah Clinic site on the way to the library last week. Construction crews have made progress with the concrete poured for the building's footings. Maybe next time I will see walls going up. It is exciting to see this new investment in Kamiah and a much-needed expansion of the clinic.
Do you have a child who likes football and is in danger of getting bored this summer? Check out the 2019 youth football camp at Clearwater Valley High School next month. Clearwater Valley's football coach Roger Whalen is offering two five-day camps. The first camp for grades 3rd-5th is from July 22- 25, from 5 to 7 p.m. The following week, July 29, through Aug. 2, also 5 to 7 p.m. is for students, grades 6th through 8th. The camp is open to not just Clearwater Valley students but students from surrounding area schools including home-schooled students. Cost is only $20 for one child and $30 if you send two. To register children for either camp, contact Melissa Carter 208-935-5134 or Crystal McElreath by Facebook or at 208-507-1042. Proceeds from the camps will go to support the Clearwater Valley football program.
Mark your calendars for July 6th when the Clearwater Valley Aero Club will host their annual Kamiah fly-in at the airport, 121 Airport Road. The highlight of the day is free "young eagle" flights for youth 8 to 17. What a thrill for kids to see their valley from a small plane! The event runs from 7:00 a.m. to 2 p.m., beginning with breakfast from 7 to 10 a.m. ($10 adults, $5 kids), kids activities including face painting, a $5 lunch at 11 a.m. and a silent auction. So, check it out especially if you have a child who dreams of flying! It will be fun to just see the planes. If you want more information about the event or the club check out the Clearwater Valley Aero Club Facebook page.