CLEARWATER VALLEY -- As I drove into Kooskia the other day, I noticed that the new electronic "reader board" sign is up at Clearwater Valley High School. The installation of the sign is the culmination of Mikaela Herrick's senior project to replace the old sign that lets people know about school events and achievements. As luck would have it, Mikaela Herrick and her mom were onsite when I pulled in to take some photos and we had a chance to talk. Mikaela came up with the idea last spring and decided to make replacing it her senior project. Last fall she began fund-raising in earnest and working with the sign company on the design with the goal of installing the new sign before graduation. She achieved her goal with a few days to spare. The sign flashed alternately- Mikaela's senior project, high school graduation and current temperature.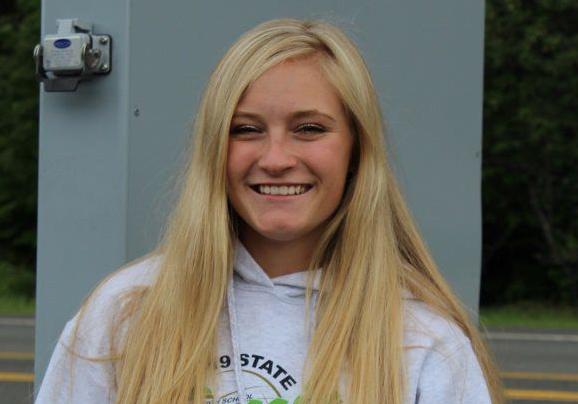 Mikaela, who served as senior class president, is on a natural high this week, finishing her senior year with an astonishing second place state finish in mixed doubles tennis with tennis partner Jarret Nuxoll, putting Clearwater Valley on the map for statewide tennis. Herrick explained that in the Boise area some of the tennis players have access to indoor facilities that allow them to practice year around and gives them an edge in competition.
She plans to study art and design at the University of Idaho beginning this fall. What a delight to meet her. Wishing Mikaela and all of the graduating seniors the best in whatever they do next!
I stopped at the Life Center for the grand reopening of the Kamiah Food Bank. I arrived near the end of the four-hour opening and they had served 48 families already. The Food Bank, located in a separate building on the Life Center church property plans to be open on the 2nd and 4th Tuesday of each month from 10:00 a.m. to noon. People needing emergency food in-between those times can call 208-935-0362 extension No. 1, and leave a message.
I visited with the volunteers and learned that they are part of the Idaho Food Bank network. Although the program is associated with the Life Center, anyone in need can come in for food. People coming in for food are asked how many adults and children are in the family and what county they live in. Once they have picked out their food, volunteers weigh the food box.
I asked the volunteers (Sabrina Swoboda, Diane Lemas, Cheryl Callaway, Briana Barger and Kelly Lineberry) what types of donations they like to see. Donations of money or food are always welcome, but please no food beyond its expiration date. With gardens starting to produce this time of year, consider giving them your excess fresh vegetables and fruits. In addition to human food, they could use dog and cat food. Personal hygiene items such as soap, deodorant, toothbrushes, toothpaste, etc. are also welcome. Home canned items or local eggs unfortunately cannot be accepted. They are hoping to see additional volunteers so they can eventually expand their open hours.
KOOSKIA -- A spaghetti feed, silent auction fund-raiser for Carmen Howard Morris will be held Saturday, June 1, 5:30 to 10 p.m. at Kooskia Cit…
While on site at the Food Bank, I talked to Denise Bacon, one of the organizers of the June 1st spaghetti Feed to raise money for Carmen Morris Howard who lost her home in this spring's flooding on Clear Creek. Bacon described getting some "killer" donations for the silent auction. She is excited to be able to do more to help Carmen with this event. Tickets are available in advance ($7.50 adults, $6 for children younger than 10) at Perfection Tire in Kamiah, Kooskia Café and Shiznits food stand in Grangeville. You will save $1 per person if you buy tickets in advance. The event runs from 5:30 to 10 p.m., on Saturday, June 1. In addition to the spaghetti dinner and silent auction, country singer-songwriter-guitarist Josh Crosby will entertain the crowd with live music. If you don't know Josh and his music, check out Joshua Crosby Music on Facebook. It's not too late to donate an auction item. Contact Denise Bacon at 208-935-8058 or Cindy Lane at 208-816-8489 to donate funds, auction items or for questions about the event.
Idaho Department of Insurance will be host to a Medicare workshop with the Orofino Health Clinic on Thursday, May 23, from 11 a.m. to 1 p.m., …
Also, on June 1, is the 6th annual Classics on the Clearwater car show and swap meet from 9 a.m. to 2 p.m., at the Long Camp RV park near Kamiah, located just downstream of the Heart of the Monster site along Highway 12. Psycho Joe will provide the music and the food trailer will be open, serving hamburgers, curly fries, salmon burgers, veggie burgers and more. For info, call Connie Hertel at 208-935-7922.
In preparation for the 2019 Kamiah Rodeo on June 15th -16th the Clearwater Valley Roundup Association (CVRA) is looking for girls interested in trying out for Rodeo Royalty. Contestants need to be 12-18 years old as of Jan. 1, and live in Idaho, Lewis, Nez Perce, Clearwater or Latah counties. Tryouts will be held at 1 p.m. on Sunday, June 9. Dress requirements for tryouts are long-sleeved white western shirt, blue or black plain (no bling) western jeans, western cowboy hat and cowboy boots. Contact Lennie Bentz at 208-451-5278 or jblmiller09@gmail.com for information.