CLEARWATER VALLEY -- SHAZAM! The Upriver Youth Leadership Council (UYLC) will show the 2019 hit movie Shazam at the Kamiah Riverside Park on Thursday, Aug. 8. This movie is based on the comic book superhero of the same name and can be described as comedy in the fantasy/science fiction genre and is rated PG-13. The movie will begin at 8 p.m. and runs a little more than two hours. Anyone is welcome to watch the free showing of the movie, but Upriver Youth Leadership Council (UYLC) needs anyone age 12 or younger to have an adult with them. The Kamiah Elementary School parent-teacher organization will be selling concessions if you need snacks or drinks before or during the show. Bring chairs, blankets, etc. as you will be sitting on the grass in the park.
UYLC's movies-in-the-park began last summer and have proved popular entertainment in a town with no movie theater. They expanded into Kooskia with a free showing of Dumbo during Kooskia Days. Watching a movie outdoors together can be fun with family or friends. The Youth Advisory Board (YAB) students have been doing a great job of coming up with local events and regional trips to counter the claim "there's nothing to do here."
Upcoming events in the area include the Chief Looking Glass PowWow in Kamiah beginning on Friday, Aug. 16, through Sunday, Aug. 18, behind the Wa-A'Yas community center on Idaho Street in Kamiah. I have enjoyed attending this event that past two years and joined in on several of the intertribal dances open to all. Dancers of all ages compete is special dances, with a variety of drumming groups providing the background.
The Lifewater Ranch located between Kooskia and Clearwater at 430 Cedar Creek Road, is hosting an open house on Saturday, Aug. 17, from 9 a.m. to 9 p.m. to celebrate their new swimming pool. People are invited to try the pool and hot tub, also the horseshoe courses, disc golf run, tour the house and roam the 160-acre property. The event is free and a way to introduce local people to what the property offers. The owner, Sanford (Sandy) Staab, who retired from Microsoft, offers reasonable rates for hosting family reunions, corporate retreats and other gatherings. He hopes to create a sense of community there, hiring local people for development of the property and activities. I met Staab last winter when I substituted for the Kamiah Middle School librarian. In the winter Staab, AKA the chess guy, volunteered once a week to teach kids how to play chess at lunch time. He developed a loyal following in students as young as fourth graders. He also organizes a youth chess tournament in Cottonwood. So, if you're curious about the Lifewater Ranch, check it out on the 17th!
Speaking of family reunions, I had a great time at mine last week at Brown County State Park in southern Indiana. Fun to see family from all over the country and catch up. The humidity there made me feel like I was walking through molasses, but thankfully the Abe Martin Lodge, where we stayed, had an aquatic center. Thanks to those of you who were disappointed that I had no Clearwater Valley News column last week, but I was too busy going down the water slide with the younger relatives!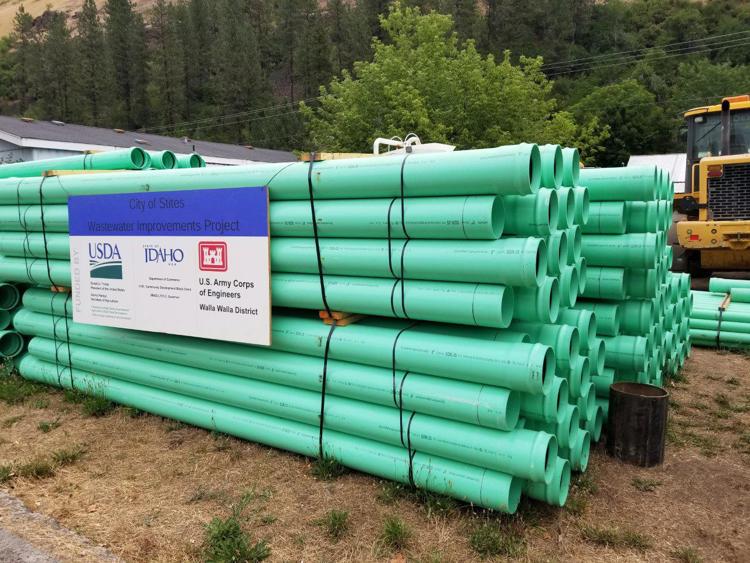 If it's summer, it must be construction season. In the 10 days since I'd been in Kamiah, the walls have started going up on the new St. Mary's Clinic in Kamiah, a $5 million project. The empty lot next to the Silver Dollar in Stites is filled with pipes and other materials and equipment ready to update the town's wastewater system. The Idaho County Road Department reports good progress on the Glenwood Road repairs.