CLEARWATER VALLEY -- How about that Clearwater Valley Rams football team? Way to make a statement in your first game with a 46-0 win over Timberline!
We spent Saturday at Kamiah's 83rd Annual Barbecue Days with our final parade entry of the season for the "Norma Staaf for Mountain View School board" campaign. I had fun meeting up with some of the Kamiah students and teachers that I met last school year while I substituted in the Kamiah Middle school and high school. I noticed Kylee Loewen with a big smile, sporting a pink "happy birthday" crown and a "#40 and fabulous" T-shirt so I stopped to wish her a happy birthday. Great to see a woman enjoy her day!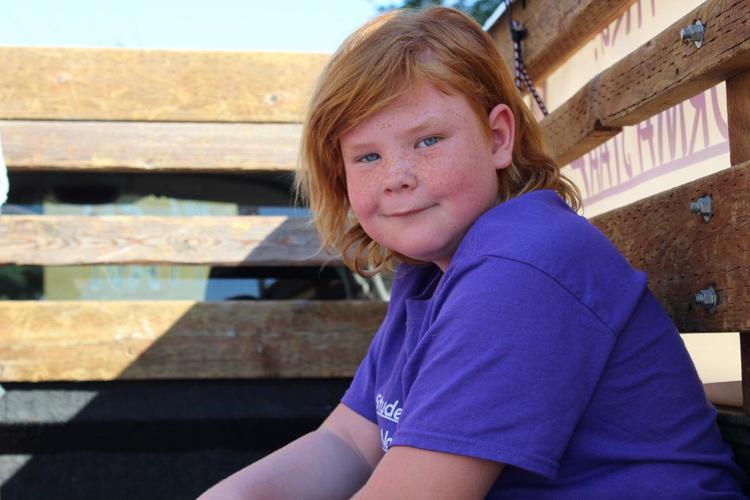 In other birthday news, when I was up in scenic uptown Clearwater the other day, I met up with Susanne Smith. It seems that she and her husband, Lyle Smith, both movers and shakers in the Clearwater community, had big birthdays (the number ends with a zero) during Labor Day weekend. Their families threw them a party in Montana with additional fun and festivities for several days afterwards.
I went to Clearwater to try the Wednesday lunch in the Clearwater Baptist Church basement. One of the first Clearwater Valley News columns I wrote a couple of years ago featured this lunch. A group of 16 people gathered and feasted on elk stew, cornbread, plums and cheesecake! It's a great deal for only $5 a person (for those who can contribute). I saw some familiar faces and some new ones including Linda Winters, who is one of those helpful folks who sends me information about Clearwater town happenings to include in this column. Anyone is welcome to this homemade lunch on the first and third Wednesday of each month at noon.
After months of fund-raising, collecting furniture, a pool table, foosball, games, etc., the Kamiah teen center opened last week for youth 13-18 at 413 Main Street! The Youth Advisory Board (YAB) of the Upriver Youth Leadership Council (UYLC) invites people to see the center during the grand opening, on Friday, Sept. 6, from 4-6 p.m. Great job, YAB and UYLC, for taking a dream and working hard to make it a reality!
Friday night is also the Navajo taco feed at the Big Cedar Schoolhouse from 5-7 p.m. For only $5 you get a fresh, hot frybread taco with beans, veggies and toppings, a dessert taco and a beverage. Yum! Raffles for firewood, jewelry and gift baskets will be happening after dinner. The Big Cedar Homemakers use this event to raise money to support maintenance on the buildings and grounds. I was up there earlier this summer and the place looks great after a fresh paint job!
On Thursday, Sept. 12, YAB will be hosting a free outdoor showing of the movie Shazam at the Riverfront Park in Kamiah beginning at dusk. The Kamiah Elementary School PTO will be selling food and soft drinks. Kids younger than 12 need to have an adult with them. If you have questions about the movie night, call 208-743-0293 or by e-mail upriverylc@gmail.com.