WHITE BIRD -- Here it is the middle of July, and we are still having thunderstorms, wind, and whatever Mother Nature is still throwing at us. I hope some of the gardens can be saved, and the farmers are ok with the hay. I know they are cutting fast and furious before the next storm.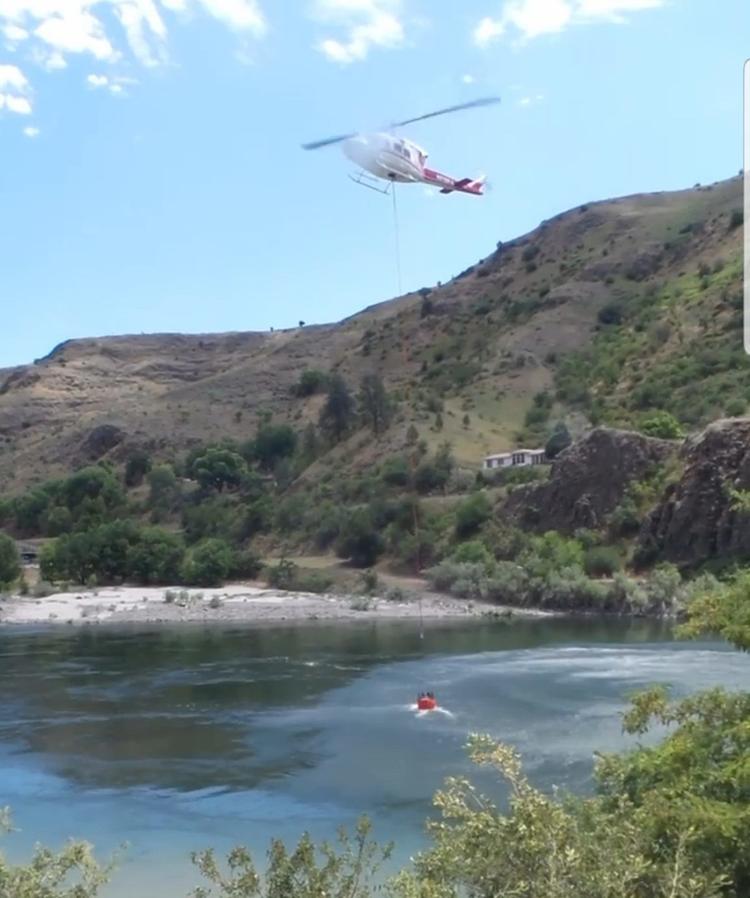 Speaking of fires, we had one last Sunday up by the watersheds. Thanks to our amazing community with the initial attack, White Bird Fire, Salmon River Fire, White Bird QRU, and the Forest Service brought in hand crews, helicopter with water bucket and then borate planes. Again, a huge "thanks" for all who helped in any way!
We have slowed down considerably since the Fourth, now we can relax and enjoy the summer. Along with this, will bring on more barbecues, float trips, jet boat trips, and just plan relaxing and visiting with loved ones and neighbors. Remember, just because we have been getting rain, doesn't mean the fire danger isn't lurking nearby.
No meetings this week. Remember if you have an event or some news that you want to reach out to the town, and beyond, let me know at least a week or two in advanced and I'll try and get it in for you.
It was a busy Border Days week! Hopefully everyone has recovered. I was happy to have my girls home from Boise. We got my brother, Steve, to p…
Do you remember the "old tractors" that were in the parades around the area? The Grangeville FFA Alumni Association is selling 2020 calendars featuring these beauties that were owned and restored by Ted Billups. They are available at Stuivenga Vessey Drilling and United Country Musick & Sons for $20 each.
Salmon River Resort is looking for a handyman for odd jobs at our park. Work would include, but not limited to painting, staining, carpentry, building projects, etc. This is part time and you would need your own tools. If this is something you would be interested in, call Kortney at 1-509-386-6995 or if you need more information.
July 27 is the 2019 American Legion Golf Tournament, 18-hole at the Grangeville Golf Course. Ladies are welcomed, so get you swing going, and join us for the day. Registration and payment in advance is recommended. $65 green fee per golfer, 18 holes. This includes green fee, delicious lunch with pulled pork sandwiches, salads and desserts. Souvenir hats are available too. Winners choice of two major prizes, as well as many other to be awarded. Proceeds to benefit the American Legion Posts No. 152 and 37. Call OC at 1-208-507-2645 or Maggie at 1-208-507-1777.
Update on Kevin Zumwalt. He has been moved to a physical therapy hospital where he will be able to work at his own pace. Seems they have gotten his pain under control and that is a great sign. Keep the prayers and good thoughts coming his way - hope for a speedy recovery...it's gonna be lengthy.
Birthday wishes go out to Tarryn Dewey, Mr. Hoot, Joaquin Lowe, David Mathew Hickman (21st), Mia Randall (22nd), Bo Thomas Marek (23rd), Doug Giddings, Kurtis Killgore (24th), Hannah Jean Kohtz (25th), Lainey Lucarelli (26th), and Toby June Hagen (27th).
In Memory of Jack E. Marek (23rd) and Don Wright (24th). Anniversary wishes go out to Dan & Kathy White (22nd), Mike & Kathy Lucchessi (25th), and Mr. & Mrs. John Bashaw (27th).
TidBits: With haying, harvest, trailering animals to fairs, rodeos, and much more, remember...
I am 13 and a half feet tall. I weigh 40 tons. I need three football fields to stop. So, don't crowd me! Cause I don't do fenders. Be ever courteous to these big rigs, and trailers carrying livestock...they can't stop on a dime and it could be your dime they will need to call an ambulance!