GRANGEVILLE — Chandra Kelley wasn't looking for another dog; however, as often happens in the pet world, a little ball of fluff fell into her arms — literally.
"When I first met this guy, he just fell into my arms and leaned against me," she smiled.
This little guy is Brigger, nicknamed "Punky," and now Kelley cannot imagine her life without him.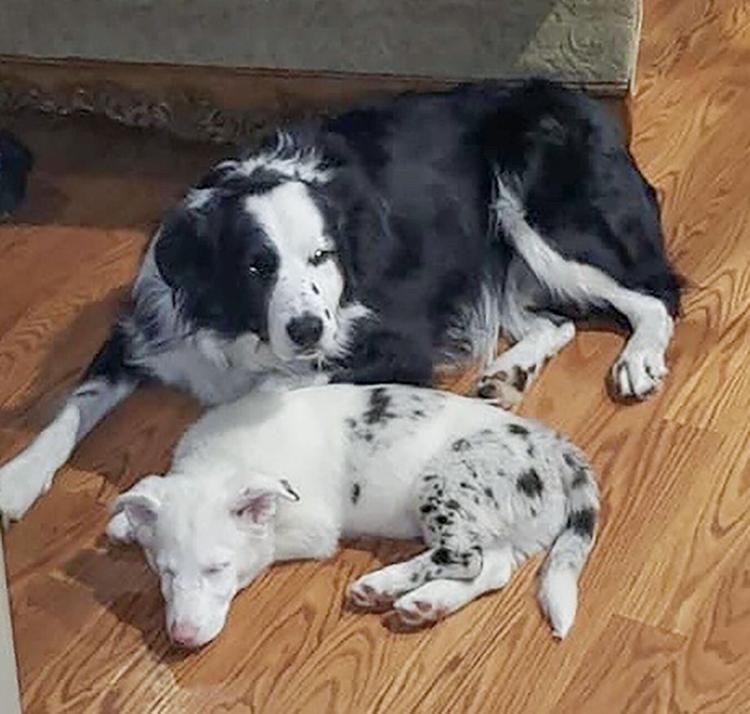 Kelley is a dog lover and had recently lost two of her little furry companions, 18-year-old Rowdy and 14-year-old Buster, both dachshund mixes.
"I was sad, but I was like, 'I don't need another dog right now,'" she recalled.
Afterall, she did already have 4-year-old cow dog, Mac, as well as 15-year-old lab, Sophie. Sophie actually belongs to Bruce and Nancy Dreher, whom Kelley is a caregiver to. They live with her, as well as the Dreher's cat.
However, a daughter knows her mother and when 19-year-old Cassie Chandler heard about a special needs puppy in Council who needed a home, she knew exactly where to look.
Cassie lives in Indian Valley, near Council, where she works on a cattle ranch. A family friend had a litter of puppies that came from a male Corgi and an Australian Shepherd Blue Merle female.
"Apparently, the owners tried to stop conception with a shot, as they didn't want these dogs to breed, but it didn't work," Kelley said.
What resulted was a litter of six puppies – one nearly pure white.
"They discovered this little guy was deaf, and they didn't know about his sight," Kelley said. They sold the other puppies but needed a good home for the last. "Cassie got me there and as soon as I saw the little fluff ball, I knew I would take him home."
When Kelley was walking up to the home where the dog lived, she saw an old lawn mower with a Briggs and Stratton motor on it. That stuck in her mind and within just a short time, her new pup was named "Brigger."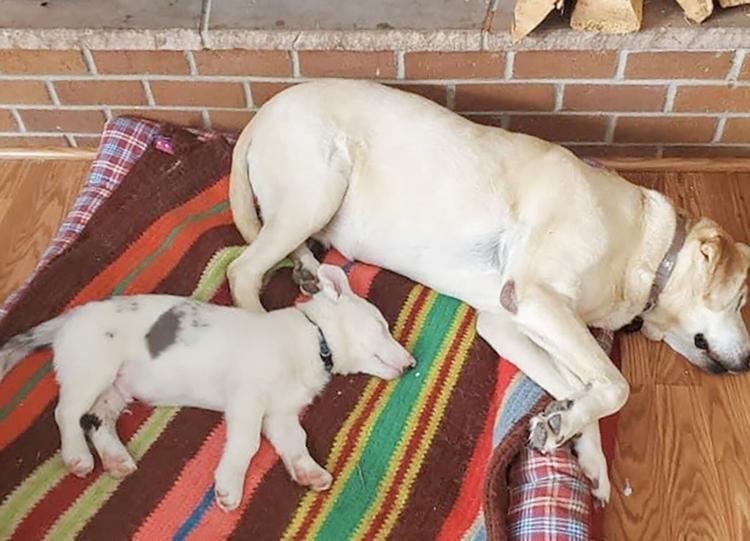 Kelley's son, Trace, a freshman at Grangeville High School, roughhouses and plays with Brigger and the other dogs. When Cassie is home, this menagerie includes her bulldog, Lelah.
"He can get really wild," Trace said.
Brigger is now 6 months old and has been seen by the veterinarian, who gave him a clean bill of health.
"Except for the fact he cannot hear, and his peripheral vision is off," Kelley said.
"He can't hear even if you yell behind him, but he can feel your vibration when you walk on the floor," Trace demonstrated.
Brigger loves to play with the other dogs and is a constant source of entertainment for the family.
"When it's time to come in from outside, if he isn't watching the other dogs, he doesn't always know," Kelley said. "When Lelah is here, she is very protective. I can just tell her "Go get him!' and she will run outside and nudge him, and he will look around like, 'Oh! I'm coming!' and run in."
"Lelah has a big, hard head, but she just kind of love taps him with her head," Trace added.
Brigger does get a little panicked when he doesn't know where Kelley is, she said, but that isn't often, as he is right by her side.
"He sticks close," she stated. "And his other senses are heightened."
Brigger's big, blue eyes convey mischief as he suddenly sniffs the air and turns to notice a friend of Trace's walk in the door.
"He might not hear it, or always see it, but he smells it and feels it," Kelley said.
During the interview, Brigger fell asleep on the floor with his paw on the reporter's foot.
"No matter what – he's always touching," Kelley said. "That way, if you move or leave, he's not left out."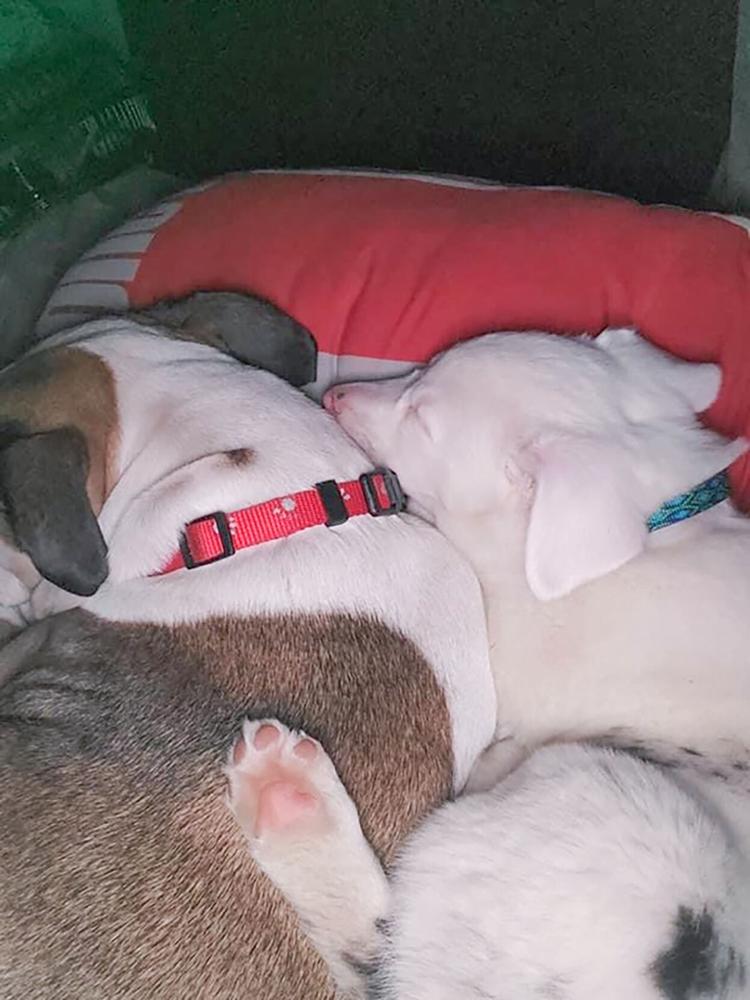 The last year has been challenging in many ways, including Kelley's daughter graduating and leaving home and her son spending half-time with his dad in Slate Creek, not to mention COVID restrictions and caregiving duties that have kept Chandler at home.
"Having animals, including little Brigger now, has been very comforting," Kelley said. "They are great company."
And Brigger has had his big brother and sisters – the other dogs – to help teach him.
"He learns so much by example," Kelley said, hugging the pup whose white coat is now showing a bit of blue-grey on his hind end.
"I love him," she smiled. "He makes me pretty happy."