GRANGEVILLE – A rally to support teachers and staff in Mountain View School District 244 (MVSD) drew more than 120 people to the district office parking lot Monday evening, Aug. 10. The gathering was organized by Central Idaho Education Association (CIEA) and brought in community members and MVSD employees alike as negotiations followed.
"We lost eight teachers in the last week, partially due to the unwillingness of the school board to spend money in reserves," Joe Tosten -- a CIEA member, negotiator and teacher at Clearwater Valley Elementary School -- told the crowd. Tosten encouraged participants to implore the board to find other ways to balance the budget other than take away the dependent health insurance premium.
Tosten reiterated his wishes, on behalf of CIEA members, in the negotiations meeting that evening, telling MVSD trustees Brad Lutz and Melissa Kaschmitter that forms the district already sent out to employees with open enrollment information was "not going to sit well with our legal counsel." He said this information cannot be set out without having been formalized in negotiations; at this point, the cut from 70 percent coverage during the past school year was a proposal from the district.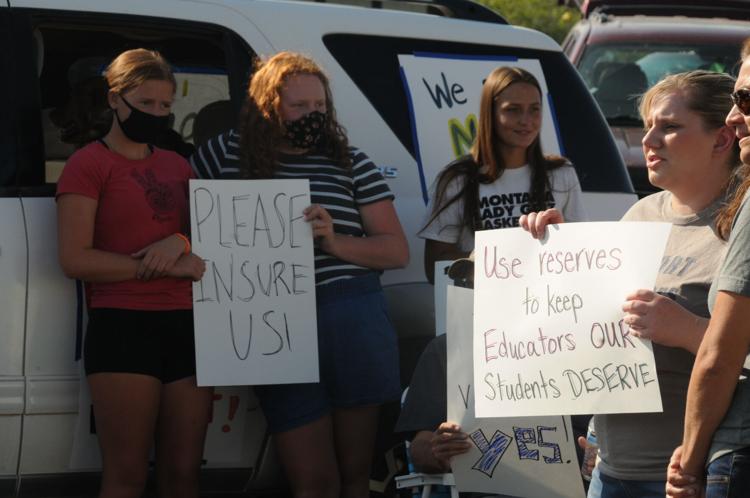 "It's very discouraging to have you come in here and say that right off the bat," Lutz told Tosten.
"I don't take it lightly, but we will advocate for our rights," Tosten said, adding the employees deserve better, especially when school starts in two weeks and it is a pandemic year.
 "We are expected to teach in full classrooms but not have dependent health care?" Tosten asked. "We're at a point where we are hemorrhaging staff. They cannot afford to stay. I know the district is in a tight spot, but we feel there are other places to make cuts."
"There could potentially be another million-dollar shortfall next year, and if we don't pass a levy, then what?" Kaschmitter asked.
Tosten said more input from the community and public input allowed at meetings would help with trust ad transparency issues within the community.
"We failed the levy, in part because we had a board member openly opposing it and a former board member and his wife writing opposition letters to the editor, while the rest of the board – crickets," Tosten criticized, advocating again for community input, marketing and transparency from everyone.
Kaschmitter said they have received e-mails from people both for and against the levy; however, CIEA negotiators all agreed the community wants to support education, but they want accurate information, as well.
"If I have $100 and I go to buy gas and a guy asks me to buy his gas, but I know he has $100 in his pocket, do I still buy his gas? Should I buy it?" CIEA and CV teacher Kevin Francis asked, referring to the money in the MVSD reserve/SRS (Secure Rural Schools or Forest funds). He was making the point that the community might not support a levy if there is too much money in reserves.
"It would be irresponsible to drain the reserves," Lutz said again, "especially when we do not know what the state apportionment will be next year."
CIEA negotiators offered several other areas they felt could be cut – or held off from for the year – such as curriculum and supplies, bus replacements and extracurricular activities.
"But then you are hurting the students," Lutz countered.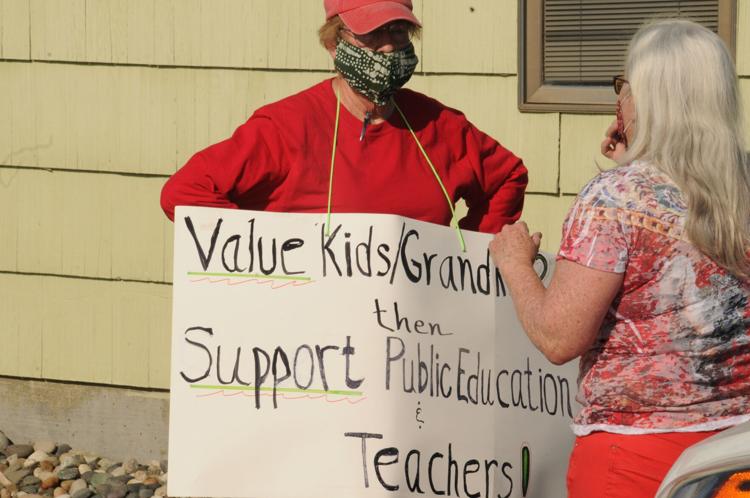 "If you don't have quality, invested teachers and staff who are members of the community, it won't matter," said CIEA president Char McKinney. "We don't want you to be irresponsible, but this is a unique situation."
"Without a decent benefit package, we will not attract and retain qualified teachers," and without that, McKinney continued, there is not a school district anyone wants to come to or support. "It's a downward spiral."
Lutz said he values teachers and a strong educational system, but the insurance proposal sticks.
"This is the proposal we will recommend to the board Monday night [at the regular board meeting Aug. 17]," Lutz said.
"So, you are going to impose this rather than negotiate?" Tosten asked.
"We have been talking in circles and we could continue that, but we aren't going to change your mind and you aren't going to change ours," Kaschmitter said.
"We will end up starting the year with everyone sad, upset," McKinney said. "And come spring, there will be a mass exodus. Then what?"
"You cannot pile more sludge on the staff this year and expect that everything will be better next year," Tosten said. "This won't end well. I'm willing to get a haircut but not be scalped."
"We cannot just look at today, we have to balance this with the future," Kaschmitter said.
"We are not just looking at today – your people are an investment!" CIEA negotiator and Grangeville teacher Katrena Hauger exclaimed.
"You are choosing to keep money in the bank rather than take care of your employees – there will be no ratification on our part," McKinney stated.