KOOSKIA – Clearwater Valley High School's Mikaela Herrick found out a senior project can be quite costly.
"I wanted to make information more readily available to the community, and the best way I could think of was through an electronic reader board," she said. She found out these signs do not come cheap.
She began raising funds for what almost seemed like an insurmountable project.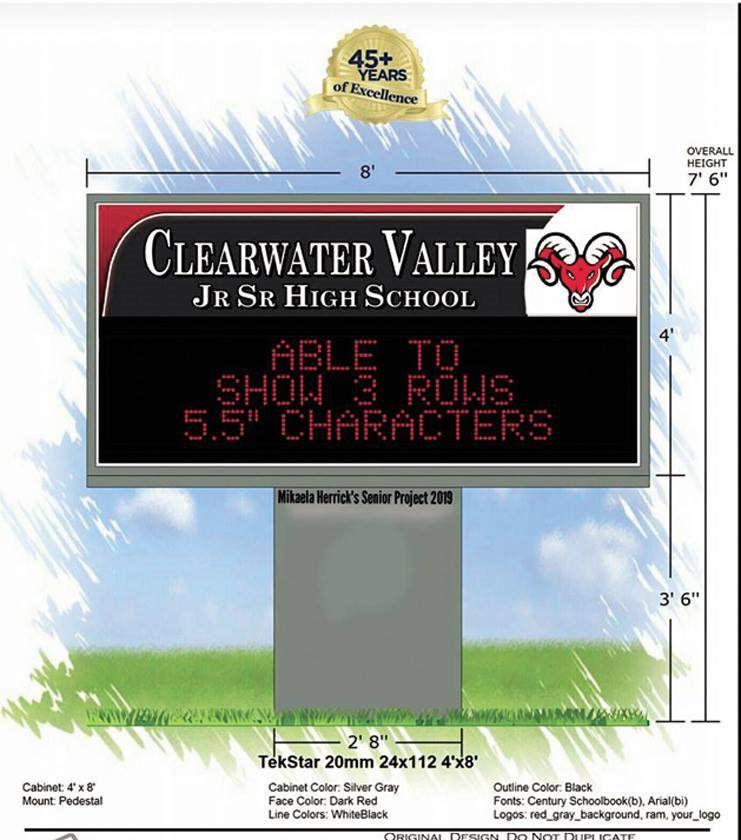 "I needed at least $20,000 – and I wasn't sure I could do it," she told the Mountain View School District board Monday, March 18.
That didn't stop her from trying. VEST (Valley Educators Support Team) started the ball rolling with a $5,000 donation.
"I don't know what I would have done without their support," Herrick stated. With that start, she plowed on toward her goal.
"Mikaela has done an unbelievable job and we're really proud of her," said CVHS principal Adam Uptmor.
Herrick spent 10 hours painting windows during homecoming for donations of $500. She made and sold rolls of homemade cookie dough that earned her another $600. An artist herself, her aunt also came from Wisconsin to help her put on class for about 25 people, which earned her another $1,500. She put on a hockey trip for kids and brought in $500.
Pepsi gave her $2,000 toward her goal, and Coca-Cola encouraged her to enter a national essay contest.
"I didn't tell anyone, because I really didn't think I was going to win anything," she laughed.
How wrong she was. She won $2,000 in the contest, and once she visited with Coke executives, they donated another $4,000. Freedom Northwest Credit Union also donated toward her endeavors.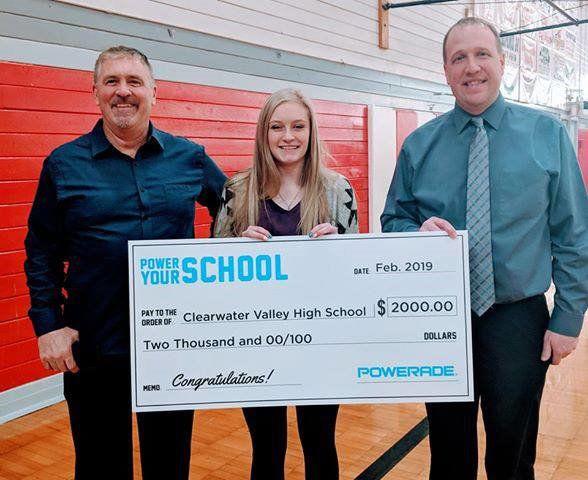 In the midst of raising funds, Herrick also had to work out all the logistics of the reader board. This included contacting the Idaho Department of Transportation and obtaining permission to place the reader board on the highway. Check. Contacting Avista for permission to place the sign and make sure it would not interfere with existing wires. Check. Procure an installer. Check.
"Now, graduation is 11 weeks away and I would like the board's permission to order the sign so, hopefully, it can be installed and ready to go before graduation," Herrick told the group.
The board agreed with a unanimous vote.
Due to raising more than she originally planned, Herrick was able to upgrade the sign to a nicer version. The 12-foot-tall, double-sided digital sign will be placed along the highway in front of Clearwater Valley Junior Senior High School.
"I moved here from Colorado, where my school class was 300-400 kids," she said. "I came to a school with a class of 20, and this school and town have really impacted my life."
Herrick said she felt the desire to give back to the community in some way.
"I just really wanted to make that same type of impact with my senior project," she explained.
Following graduation, she plans to attend the University of Idaho and major in art and design.
"I think maybe we'll hire you to pass the levy," board chair Lot Smith joked. "You should be in marketing."
Herrick moved from Colorado to Kooskia with her family in 2012. She is the daughter of Mike and Kaeli Herrick.
"I love my small school. There is more one-on-one with the teachers. The staff here at the school are always willing to help any student with full effort. I've had excellent teachers and coaches who have taught me lifelong lessons that I will cherish forever," Herrick said.
Throughout high school, Herrick has been involved in student council (including as current senior class president), BPA, National Honor Society and tennis. She has been involved in a variety of school and community service projects, as well.
Herrick thanks her family, mentor, staff and community members who have help her accomplish her goal.
"I couldn't have made this positive impact without the help of others," she added. "I was able to learn the importance of community involvement and new ways to fund raise."