GRANGEVILLE – Students in Mountain View School District 244 won't have to make up current days lost to snow.
"We're good right now – but we're getting close at the high school level," superintendent Marc Scheibe said at the Feb. 26 regular monthly board meeting.
Extra days are built into the calendar and the district has not yet gone past that amount.
"I have had parents ask me about whether or not those days will be made up," trustee Rebecca Warden said.
"Well, every lost day is a loss of learning time," Scheibe answered.
The board voted to accept all the weather-related school closure days to date. Now those days go onto the state for approval.
Scheibe explained the bus barn managers/head drivers get up "very early" and drive the roads, check the forecasts and are in contact with the city, county and state road crews to determine if there may need to be a closure.
"We always try to err on the side of safety," he said.
Scheibe also reported the Elk City School improvement plan has been accepted by the state and is in the process of being implemented.
"And the enrollment is up to six kids now," he added.
"Well, that's more than a 25 percent increase; not bad," smiled board chair Lot Smith.
Scheibe also reported the Lewis-Clark Early Childhood Program (Head Start), new to Clearwater Valley Elementary School in Kooskia this school year, started out "very slowly."
"It began with just two or three kids, and is up to 10 now," he said. "I'm pretty excited about that. There's room for 20 in the program, so hopefully those numbers continue to increase."
He said the Grangeville program at the elementary school has 19 or 20 students.
"We're looking at shifting some housing around as we're getting ready to bring a large third grade class to that hallway next year," he said. "We want to make sure we have the best fit."
Several board members reported on "Day on the Hill" in Boise which took place President's Day weekend.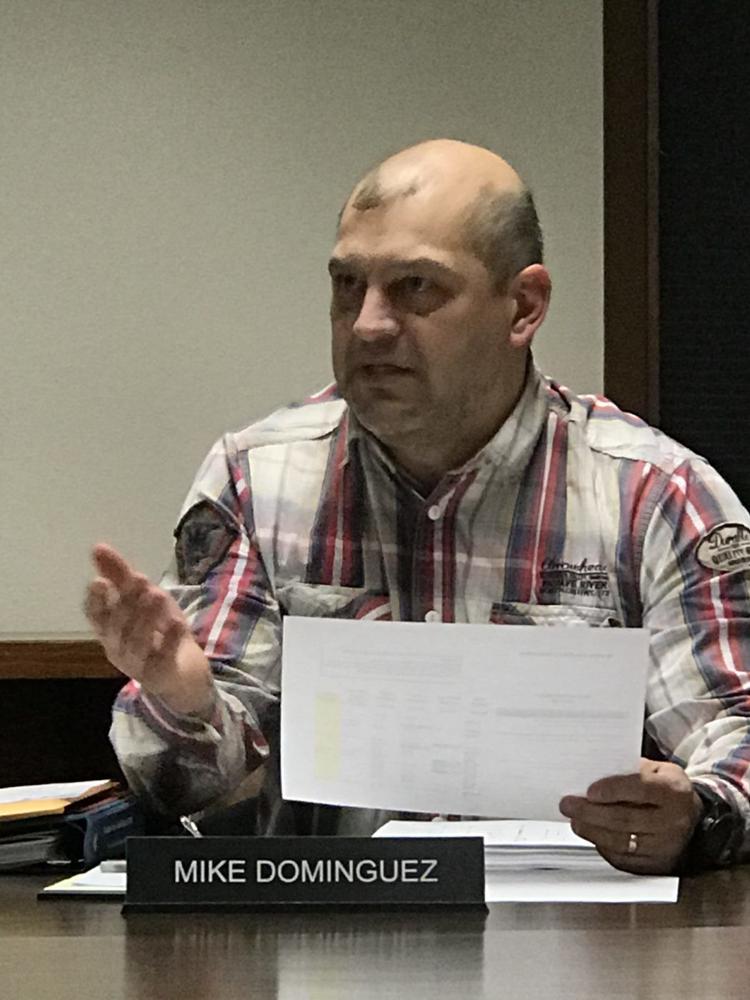 "I thought I was just signing in for a session, but I was actually signing in to speak," laughed trustee Mike Dominguez.
He said he ended up "giving my two cents worth" to the house education committee.
"I explained how the funding is not equitable – how they may have 17 culinary classes in the Boise area and we're struggling to have a math class here," he said.
He added one person from the higher-populated areas asked why they should be punished when they're the ones who bring in the higher paying jobs and tax base.
Dominguez shook his head.
"That is not the free and equitable education our kids are promised," he said.
Aside from that comment, Dominguez said he feels he was listened to and several additional questions were asked of him.
Lot Smith added, "They know they need to come up with a new funding formula, but the house and senate are on different wavelengths."
After some deliberation, the board voted to retain Solberg Agency as its benefits consultant.
The board also voted to accept up to four new bus bids for 65-and 47-passenger buses. One of the current fleet's buses will be partially paid for with a DEQ replacement grant ($30,000). These are done to get certain years of buses off the road that have high emissions. The cost of new buses is in the neighborhood of $115,000 apiece from Harlows (the only district bid that met specs).
The board meeting had started with some tension as Grangeville Elementary Middle School special education teacher Cary Draper – one of about 30 audience members in attendance – asked the board, "Will you be written up for the last meeting's interruption?" she questioned regarding the January meeting when chair Lot Smith took time to say the board had been sitting by while being slammed by the Central Idaho Education Association.
"I was written up for what I said at the last meeting," Draper added, referring to expressing her thoughts openly during the meeting and challenging Smith on his recollections at that time.
"That's something you need to discuss with the superintendent," Smith answered.
"I did and nothing came of it," she stated.
"That's enough – you're out of order," Smith said before Draper had a chance to respond further.