GRANGEVILLE – Three teams of students from Grangeville Elementary Middle School will make their way to the University of Idaho this Saturday, Jan. 25. The occasion? The state First Lego League robotics competition.
Twenty-three students in fourth through eighth grades will showcase their skills in Moscow, something they've been honing for the past four-plus months.
"Robotics is considered a sport at GEMS, so each student pays an activity fee to participate," explained GEMS teacher and robotics coach Teresa Gorges. She is assisted by Dr. Susan Anderson, Robyn Sullivan and Connie Green, as well as Clearwater Valley High School senior, Dakota Gorges, who happens to be Gorges' daughter.
Gorges mentored in robotics for five years when she previously taught in Kamiah.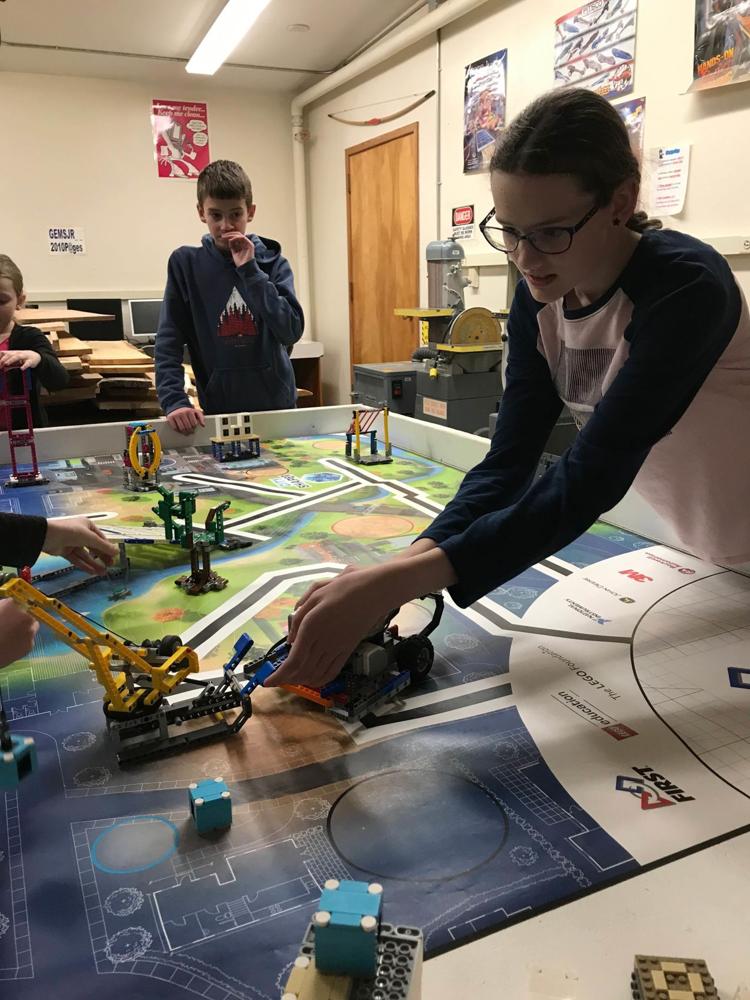 "It was a great program and both my children went through it and learned so much," she said.
Now, she meets with students after school Tuesdays and Thursdays and some Saturdays. This is the second year for the program at GEMS and the first year fourth and fifth graders have been involved.
Students focus on a variety of events within First Lego League, including core values, project presentations and the actual robot designing, building and programming for missions.
"Our team's project focuses on drive-through trash cans," explained eighth grader Tabitha Stoner. She said this would allow people to drop off trash without ever leaving their vehicles, making littering less likely. She said her team has worked with the Idaho Transportation Department and hopes they may one day fund a project such as this.
Makenna Denuit, seventh grade, is working with her team on ways to decrease air pollution in transportation.
"I have definitely learned a lot about working together as a team," she emphasized. She said she enjoys researching and has learned a lot about alternative energy sources.
"The robotics program is a fun way to look into design and innovative solutions," she said.
Addison Beach, fourth grade, is in her first year of robotics.
"Our team is working on affordable housing in Grangeville," she explained, saying they have e-mailed with Mayor Wes Lester to go over their ideas.
But where does the actual Lego building take place?
The teams are given challenges and two members go to the board/mat where they have 2-1/2 minutes to make their Lego robot creation complete a motorized challenge. Students will have previously spent hours working with their laptops to program their built devices and, much by trial and error, to get their creations to a accomplish specific tasks.
Seventh graders Caryss Barger and Kieran Gallagher went back and forth to the mat, testing their challenge, then making slight adjustments on their programming.
"You have to plug it in to the Lego robot here," Barger demonstrated last Tuesday, Jan. 14, "to make sure you have saved the programming."
The two set up the device, let it go, and worked together to make the proper programming modifications.
"Too much to the left … no, now it's not picking up … it's not quite going far enough," could be heard as the two discussed their procedure.
Although Gorges is there as a coach and mentor, you won't find her "doing."
"The goal is for them to learn to critically think and problem solve to get through the issues they encounter," she said. "I try to guide them, but I let them figure out what they need to do next. They have to work together as a team and as partners to make it work."