GRANGEVILLE – It was a World's Fair extravaganza at Centennial Evangelical Free Church last Tuesday, April 9.
"Namaste," greeted Kate Foster, bowing with her hands folded.
Kate was one of a group of home-schooled students who chose a country to highlight for the annual expo.
Kate chose Nepal and dressed in garb that would be popular in the country.
"My friend, Nathalie Kretzmann, has been there, so she loaned me this outfit, plus some of the other things on my table," Kate said.
Her little sister, Maggie, chose Brunei as her country.
"Malaysia is very close, so I have some money from there," Maggie showed.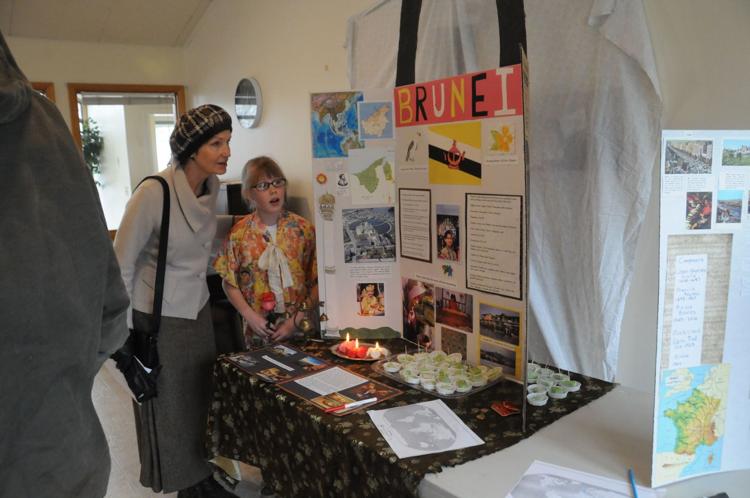 Student Mary McGuigan had a display on the Seychelles Islands in East Africa.
"They're supposed to be amazingly beautiful," she said. She had made tiny clay figures to show the types of people on the island – which is a melting pot of many different nationalities.
"We had a whole team effort with Norway," said Sundar Ahrens. A double display board showed many photos and facts on the country and the team made waffles to hand out as treats.
"Norwegians really love waffles," shrugged Kaylyn Ahrens.
Most students displayed their baking skills to some extent, including Kalub Sherrer's Bailey's cheesecake from Ireland and his brother Gabe Sherrer's chicken pudding with cinnamon from turkey.
"You can't really taste the chicken," he said.
Each student was able to present facts on their country of choice and answer questions from the expo's attendees.
In all, presenters and their projects included:
Damaris (Mari) Schwartz-Ecuador; Mary, Saoirse, Aela, and Bjorn McGuigan-- Seychelle Islands; Isaiah Fuerstenau - Nauru; Nathan Fuerstanau-Columbia; Charlotte Fuerstenau—Brazil; Elias Fuerstenau—Egypt; Ben McCarty-Italy; Elizabeth Nichols-France; Kalub Sherrer-Ireland; Gabe Sherrer-Turkey; Elijah Cross-Monaco; Lilly Cross-Madagascar; Kathleen Walker's class: Sundar and Kaylyn Ahrens and Josh and Cora Nichols—Norway.