GRANGEVILLE – "It has been an honor to serve this district, community, staff and, most of all, its students," Mountain View School District 244 board chair Lot Smith said at the Dec. 16 meeting. "We're human and don't always make the right choices, but I don't have any regrets."
Smith, of Grangeville, served in his final meeting after 11-plus years as a trustee and several years as board chair. He opted not to run for 2020, and Melisa Kaschmitter, also of Grangeville, will take his place for zone 1.
"I've had the opportunity to work with many great board members throughout the years, as well," Smith added. "And I thank Becky Hogg [district business manager] for making things easier for us, for all the work and explanations of the budgets and numbers end of things."
Acting superintendent Woody Woodford thanked him for service and presented him with a plaque. In addition, he presented Mike Dominguez of Kooskia, zone 4, with a plaque for eight years of service.
"I've loved it, even though it has been rough," Dominguez said. "There have been a lot of tough decisions, but I always tried to do the best for our communities."
Dominguez lost the trustee election to Pam Reidlen, also of Kooskia. New trustees will be sworn in at the January meeting. Casey Smith, Clearwater, zone 2, was the incumbent winner in the race against challenger Norma Staaf of Harpster.
In other news from this meeting, the board read and discussed proposed changes in the district's early graduation policy.
"Some districts have the board approve these students and their plans, but here, the policy is for superintendent approval," Woodford explained. In the course of the conversation, he asked, "If a student has met all the requirements, should we be standing in their way?"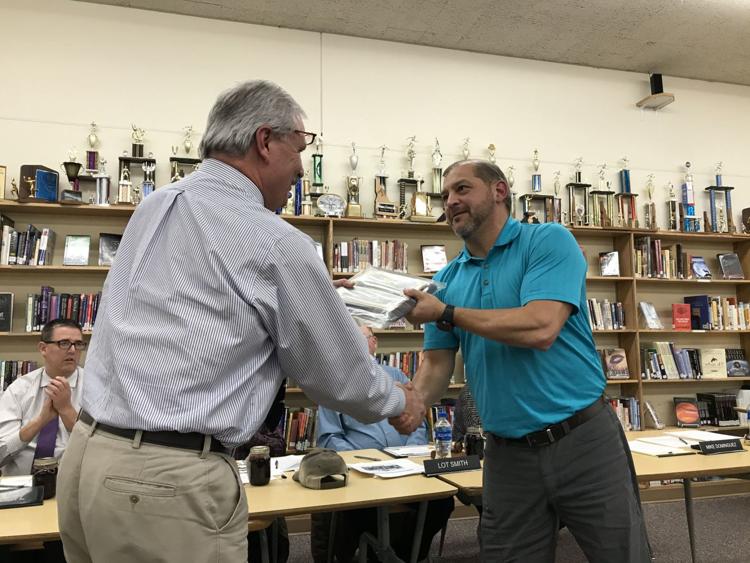 In further discussion, Lot Smith said one of the requirements of the board of trustees is to make sure students are certified and qualified for graduation.
"I like for them to come and present their cases to the board, to keep the board in the loop. It makes them step up and it's the mature thing to do," he said.
Trustee Brad Lutz asked why the proposed changes in the policy were brought to the board and who was requesting them.
Grangeville High School Principal Randall Miskin said GHS counselor Susan Morris and he were requesting some changes because "the policy is very outdated."
He said the past two superintendents had students simply go to them to request early graduation, "which is why we're in a conundrum now," he said.
He referred to the board questioning the process last year when they were unaware of some students who had already been given the green light to graduate early.
"The policy still refers to passing the ISATS, which is no longer even a graduation requirement," he added.
"I feel the problem has been a lack of communication between everyone," said trustee Rebecca Warden.
The fact the policy stated a minimum 2.5 GPA is needed in order to pursue early graduation was also discussed.
"I have a bit of a problem here for the kid who is wanting to graduate early to, literally, go to work, not college," he said.
"They shouldn't be entering those careers before they're 18," Warden stated.
The board agreed more research is needed and the proposed policy changes will go into a second reading in January.