GRANGEVILLE – You may know where Laredo, Panama City and Bangor are located, but what about the Great Dismal Swamp? Do you know in what environment the endangered Red Wolf lives? Would you be able to answer questions about Shanghai or the Falkland Islands?
Students at both Grangeville Elementary Middle School (GEMS) and Sts. Peter and Paul School (SPPS) competed for first place in the schools' National Geographic bees last week. Each student highlighted their geography knowledge base in a variety of ways.
Students have oral and written answers, have to demonstrate critical thinking and map skills to compete.
At GEMS, the school's top 10 geography students are sixth graders, Kinzley Adams and Ayden Arnett (absent for the bee); seventh graders, Sydney Adams, Makenna Denuit, Kieran Gallagher, Tylee Hietala and Hyrum Pikus; and eighth graders, Grace Arendano, Carsen Scheiss and Tyler Zechmann.
The students met Jan. 16 for the quest to find a school champion.
After the second round of questions, Avendano, Adams, Scheiss and Adams were out (having missed two questions each). Heitala was out by the third round and the fourth round of questioning took out Pikus.
Gallagher, Denuit and Zechmann were the last three standing, and finally it was down to just Gallagher and Zechmann.
Championship questions included clues about a discovered slave ship, Greta Thunberg's hometown and Ascension Island.
One of the final questions asked, "Rain that falls on the slopes of the Triple Divide Peak in Montana's national park flows into the Atlantic, Pacific and what other ocean?" (Answer: Arctic).
In the end, Zechmann became the champion with Gallagher in second and Denuit taking third.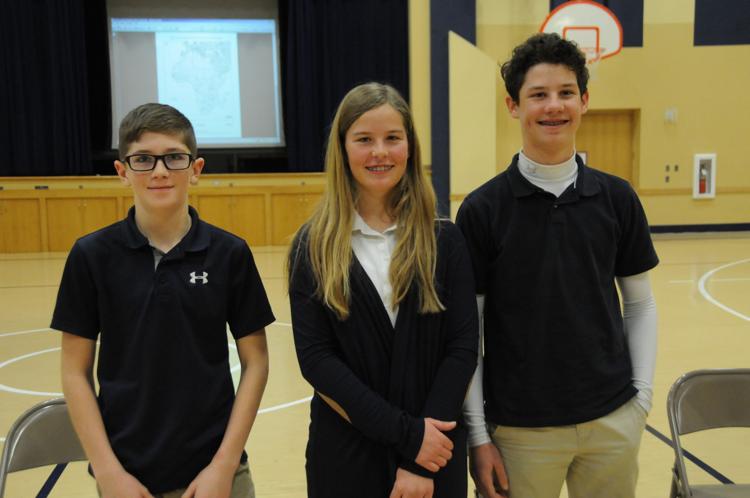 SPPS' top 10 geography students who competed in the bee are fourth graders, Easton Hammatt and Mylee Wasem; fifth grader, Callie Howe; sixth graders, Elise Beman, Amaya Hammatt and Riley Wimer; seventh grader, Cressis Holes and eighth graders, Jack Bransford, Ray Holes and Cody Klement.
After the second round of questions, Howe, Beman and A. Hammatt were out. The third round took E. Hammatt, Wasem and Wimer.
The last four standing were C. Holes, R. Holes, Klement and Bransford, then it was down to the Holes and Bransford.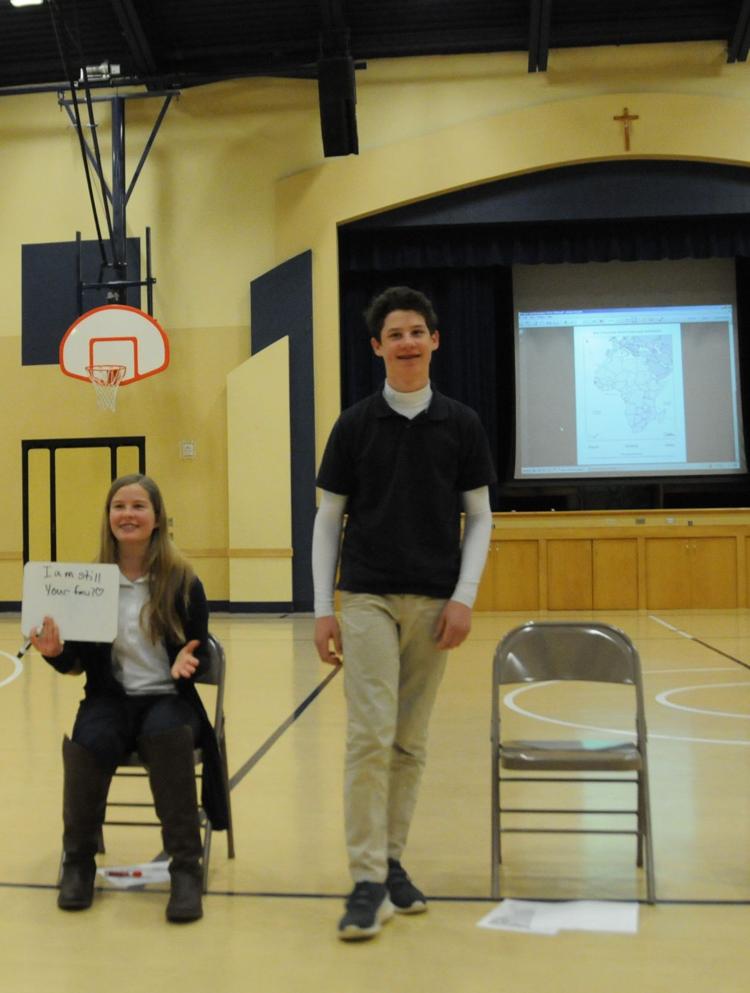 Finally, the Holes siblings were left to battle it out in the championship round.
In the end, Ray Holes took top honors, but congratulated his sister, who took second. Bransford was the third-place winner.
Now, each winner will take an on-line qualifying test. If they place in the top 10 in the state, they will have the chance to compete in Boise against the top state contenders. Winners of their respective state bees win an all-expense paid trip to the GeoBee national championship in the spring.