I've always believed a good book, if it comes along at precisely the right time, can change your life.
I've traveled across the prairie with Laura Ingalls, cried over hound dogs with Billy Colman, felt the sting of words and despicable acts with James Baldwin and Alice Walker, and felt the thrill of love alongside Queen Guenièvre.
Books, characters, authors. They have changed my life.
I do not remember a time when books were not important. As a child I devoured The Great Brain books and wanted to be as clever as main character, John. I loved Harry the Dirty Dog and Sprout the young boy, as well as Encyclopedia Brown and Ramona and Beezus. I cried when Socks the cat felt displaced when his owners brought a baby home. I craved to seek out mysteries such as those Nancy Drew and Trixie Belden came upon.
In junior high, I found the joy of scaring myself and read Amityville Horror and The Shining. The girls passed around Are You There God, It's Me, Margaret, and Forever. Horror and young love lost its grip on me at some point and I moved on to the Knights of the Round Table and books by Mildred Taylor (Roll of Thunder, Hear My Cry, May the Circle Be Unbroken, etc.).
It was in high school when I first fell in love with John Steinbeck when the drama teacher read Of Mice and Men aloud in freshman English. A Separate Peace by John Knowles and Chaim Potok's The Promise became favorites. I took creative writing all four years of high school which led to C.S. Lewis' Narnia series, Hitchhiker's Guide to the Galaxy, One Flew Over the Cuckoo's Nest and The Electric Acid Kool-Aid Test.
Middle and high school were the times when I read out loud to my dad. My mom was an avid reader herself, but my dad stopped at the Bible and the daily newspapers. However, he loved stories, telling them and hearing them. So, I read him Where the Red Fern Grows when I was in seventh grade. I could barely make it through when Little Ann dies of a broken heart following the death of Old Dan. (Years later, my own daughters would bury their heads in blankets on the couch when I read this aloud to them, my throat catching through the tears). As a sophomore in high school, I read to my dad about Ponyboy, Two-Bit, Sodapop and their friends as we made our way through S.E. Hinton's The Outsiders.
In college I was an English literature major. Could it be true one can study the reading of books? I was in heaven. I have never read so much in my life. New favorites become Siddhartha, How Green Was My Valley and O, Pioneers. I read Chaucer's Canterbury Tales in Olde English, discovered Mark Twain's irony and became a fan of Flannery O'Connor.
And I read books I didn't particularly enjoy. Moby Dick. Heart of Darkness. The House of Mirth.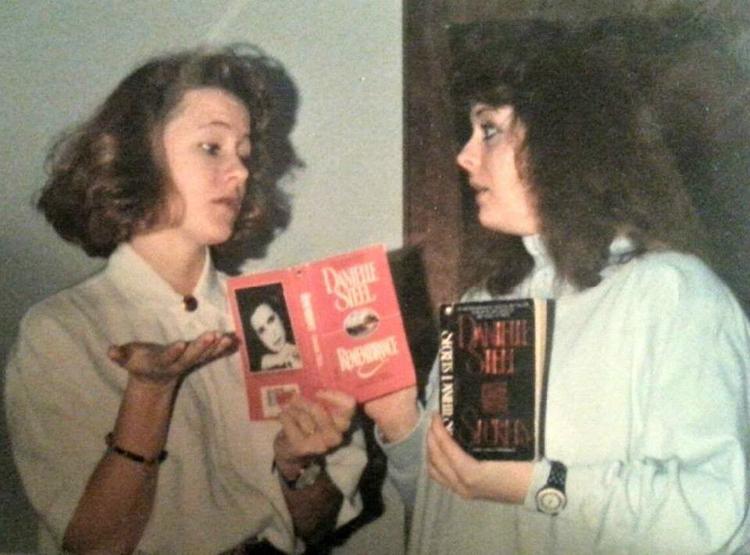 My college friend and I made fun of Danielle Steele, going as far as to provide one of our favorite English professors with a photo of us intently reading and discussing a couple of paperbacks of hers. Years later, I would read Danielle Steele and enjoy some of the stories.
I am no longer the book snob I thought myself to be following college. I moved from thinking every read had to have some sort of higher literary connection to simply enjoying what I read. Some authors whom I have come to enjoy are Wally Lamb, John Grisham and Jodi Piccoult. One of my favorite books that has beautiful, descriptive language is The Color of Water by James McBride. My favorite book and movie of all time is Harper Lee's To Kill A Mockingbird.
Books have the power to change life in many ways. From expanding your vocabulary, becoming a better writer and understanding references that come up in conversation or movies, to stimulating your mind, learning about different cultures and learning to focus. Reading can broaden your world and allow you to experience events and places you may not otherwise be able to.