'The Snow Queen' set for this Friday
Missoula Children's Theater to present play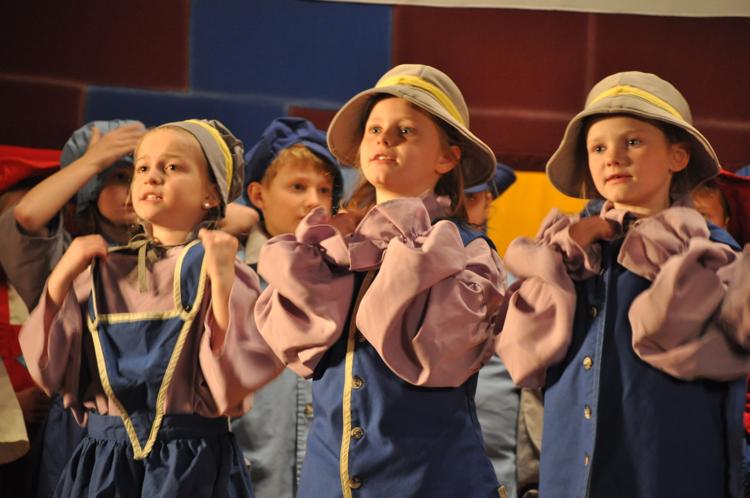 GRANGEVILLE — Journey with fun-loving Hobgoblins to the "land of colored ice" as they tell the tale of a young girl and her quest to find her best friend. Audience members may find themselves believing in malevolent mirrors, yetis, talking reindeer, and snow chickens when the Missoula Children's Theatre and more than 50 local students perform an original musical adaptation of The Snow Queen.
The Snow Queen will be presented Friday, Feb. 14, at 7 p.m., at the Grangeville Elementary Middle School multi-purpose room. Tickets are $5 per adult and $3 per child and are available at the door.
The local cast features Caryss Barger as Gerda; Sawyer Astle as her best friend, Kay; and Tabitha Stoner as the Snow Queen. Ella Denuit will play Gerda's Grandma/Old Robber Woman, and Makenna Denuit will play Kay's Grandma/Lappish Woman. 
The Gardner Woman/Finnish Woman will be Abbi Forsgren. Amen Pikus plays Bae; Hyrum Pikus plays Yeti; Jenna Denuit plays Little Robber Girl; and Mr. and Mrs. Crow will be Carson Astle and Harper Sullivan. Carson Barger and Cecillya Forsgren will play the Prince and Princess.
The imaginative, fun-loving Hobgoblins are Kelly Benefield, Nathan Bryant, Afton Winder, Hayden Marvin, Kimberly Seaver, Ksenya Barela, Luke Dent, Jefferson Good, Emma Zeckmann, Maylee Wasem, Avery Brown and Ari Gregg. The Snow Animals are Johnathan Allbrett, Jesee Pikus, Ellie Austad, Victoria Price, Maggie Black, Kendall Fogleman, Ava Lane, Bella Musick and Carli Strasser.
The Robbers will be played by Molly Blinn, Chloe Weisz, Laioni Landreth, Annie Strasser, Haylee Kaschmitter, Julia Klapprich, Brynnley York, Harlee Hanson, Aubreigh Davis and Sarah Hooper. And the Snow Chickens are Lilly Kaschmitter, Isabella Yama, Kolby Nail, Kaitlyn Llewellyn, Karly Fogleman, Kaidin Slover, Maggie Matthews, Sam Matthews, Kara Forsgren, Aleena Winder, Jex Strasser, Clifford Marvin, Talon Weber, Lincoln Pikus, Gavyn Klapprich and Grayson Chernugel. 
Serving as assistant directors will be Cloey Winder, Neveah Wilson, Katelynne Nail and Callie Weisz.
The Missoula Children's Theatre residency in Grangeville is brought to you by The Kids Klub, Inc. with support from GEMS PTO. For information, call The Kids Klub at 208-983-2285.