GREENCREEK — Twelve-year-old Gus Nuxoll has always enjoyed drawing and writing.
"I think I started really drawing when I was about 3 years old," he said.
Gus, who just finished sixth grade in Mr. Michael Rehder's class at St. John Bosco Academy, has a subtle sense of humor beyond his years. Gus is the son of Eric and Kim Nuxoll.
This style is reflected in his Greg Comix series. He began seriously getting into his characters when Covid hit, and many of his comic strips focus on main characters Greg and Bird and their response to the isolation of the pandemic.
Gus was homeschooled through grade five, and he said he learned to draw mainly through trial and error, books and practice. A year ago, his family moved from Iowa City to Greencreek to be with his grandparents, Ivan and Dina Nuxoll, as Ivan had cancer. They spent the year here and Gus said he enjoyed his time in the Cottonwood area, somewhere he has visited many times during his lifetime.
"One of my characters, Grandpa Mamoth, is based on both my grandpas," Gus grinned. One memorable strip has Grandpa Mamoth referring to the dumpster as "the trading post."
"My Grandpa Ivan always referred to the dumpster as the trading post for the good treasures you can find there," Gus recalled, laughing to himself.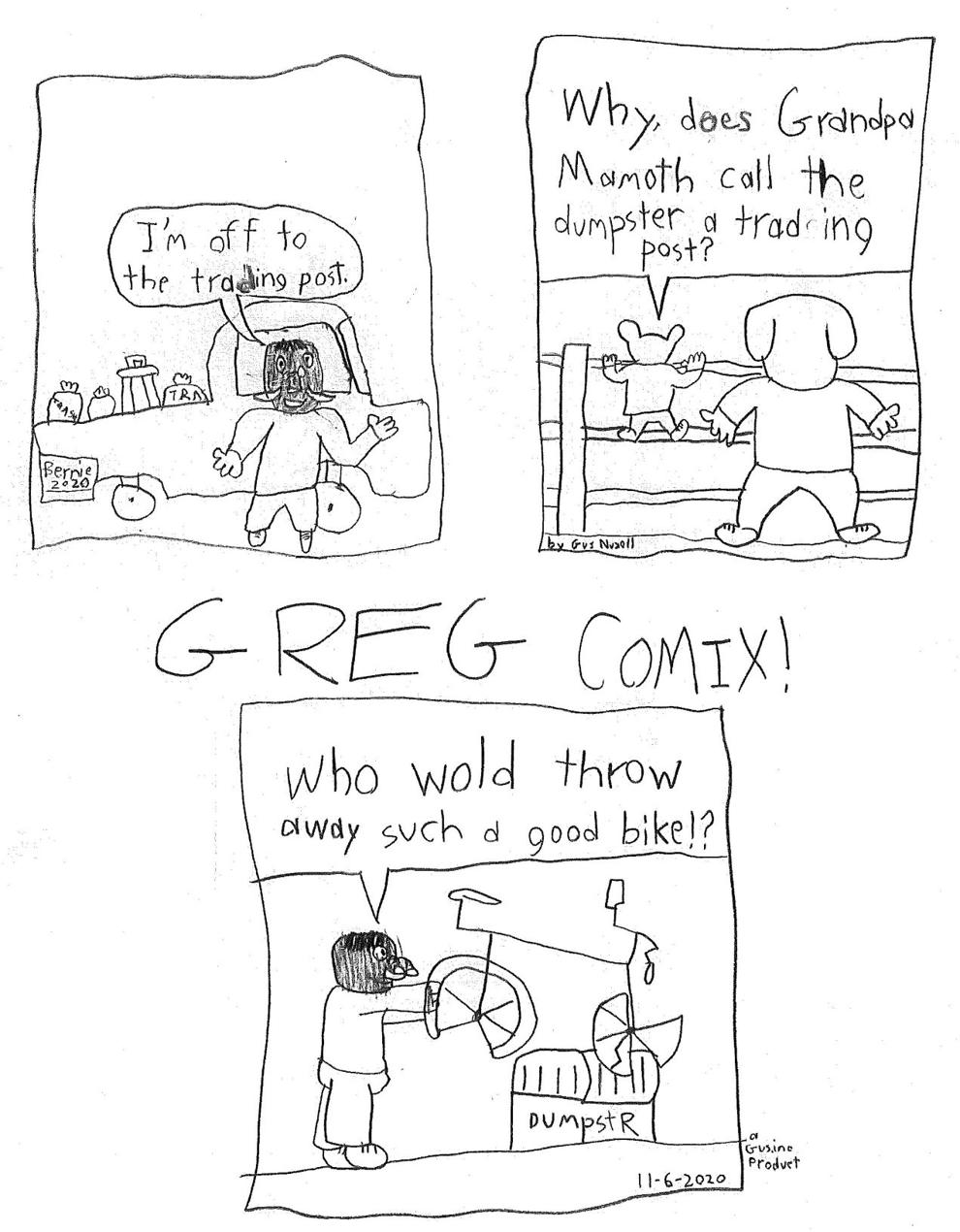 Gus' parents have enjoyed his creativity throughout the years.
"Gus loves a good pun and playing on words. He also spends time and energy visualizing his characters and the strip before drawing," Mom Kim said. "He can often be found pacing in the backyard mentally planning out his next comic. I love how the characters' facial expressions, especially the eyes, add to the humor of each strip."
Gus has written several short children's books featuring some of his characters, and said he enjoys coming up with the story or punchlines as much as he does drawing. One of his books was about "Marty the Mantis Shrimp," whom he said one of his cousins really enjoyed.
At school, he liked to read, and felt he was a "pretty good storyteller."
"I can come up with different voices and am pretty good with that," he said.
He has looked to one of his favorite strips, Calvin and Hobbes, for inspiration, but reads all the comics in the newspaper and, when he moved to Idaho, has not seen B.C. before.
"I really like that one," he smiled. "I like The Wizard of Id, too."
"But did you know," he stopped to relay with an impish grin, "Calvin and Hobbes was the first comic strip to use the word 'boogers' in the newspaper?"
Gus has three siblings: Sebastian, 17; Ambrose, 15; and Ceci, 8. He enjoys fishing and playing basketball.
His life is changing again as the family will be moving back to Iowa City the beginning of July. Grandpa Ivan died in February, and Grandma Dina will be moving to Iowa with her son and his family.
"I have had a lot of fun here and I like it. They do the Greencreek fireworks in my grandparents' yard," Gus said. "But I will be happy to go back to Iowa, too."
Maybe because that's where he sees himself when he's grown.
"I would like to be living somewhere in Iowa City, where I can bike or bus or walk most anywhere, and just creating my comics," he said. "And seeing them in print in Iowa City's The Gazette."