ELK CITY -- The Combat Veterans Motorcycle Association (CVMA) Idaho chapter has set its annual meeting for July 19 and 20 in Elk City. The event is open to the public and will include food, entertainment and other great events. The purpose of the meet is to spread the association's "Support our Veterans" important message to the public, and to hold their own annual meeting. All veterans who may need their services or want to participate in the group are encouraged to attend this event or to contact CVMA directly.
CVMA's mission is to support and defend those who have defended our country and our freedoms. The focus is to support veteran care facilities - whether to provide a warm meal, clothing, shelter, and guidance, or simply to say, "Thank you," and "Welcome home."
CVMA are volunteer members/veterans from all branches of the United States Armed Forces -- but they have one other big thing in common: riding motorcycles as a hobby. The CVMA has one or more chapters in every state. Idaho has five chapters, including Lewiston with 44 active members. Each year one chapter organizes a statewide meeting, and this year it's Lewiston's turn. Kevin Darrar holds the chapter title of senior road captain in Lewiston and is the lead organizer for this event. Durr served in the Marine Corps from 1993 through 1999, where he was a flight mechanic on TH53 Echo aircraft. You will spot him riding his prize '04 red Kawasaki Vulcan Classic here to Elk City, or in the local vet-friendly bar he owns in Lewiston: Charly's Place.
The CMVA meet-up team had been scouting for some time for a venue. Darrar has a good friend who hailed from Elk City, and she suggested the location. Darrar was greeted with open arms: "Once we contacted folks up in Elk City, we knew we were welcome."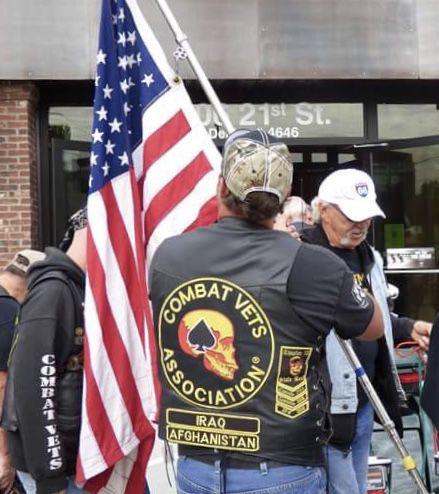 Another Lewiston Chapter member, Larry "Doc" Kinney is helping to bring this event to Elk City, but Doc also plays another critical role in the mission of CMVA -- counseling veterans. Kinney was nicknamed "Doc" early on in life as the "go-to" lay veterinarian on a 600-acre ranch. The name stuck. Doc was drafted in the Vietnam era and served in an artillery division. Like many vets, Doc was exposed to Agent Orange and he developed serious symptoms. Doc made a life changing decision to seek treatment in Tibet, where he made contact with a Buddhist monastery and stayed for three years.
During this incredible time Doc's body and soul recovered and set him on a mission that he is fulfilling today through the CVMA. Now Doc administers to the needs of veterans instead of livestock and got the honorary title of chapter chaplain. His motto is to help vets "keep cheese on their crackers," including some veterans he knows with up to eight tours in Afghanistan.
Doc is a Christian, yet opened his eyes to Buddhism through the kindness and love of the monks who took him in. Doc even got to meet the Dali Lama himself and got some sage advice - the Lama told Doc that learning Buddhism would not impair his Christian faith, but instead would make him a better Christian. As Bill Murray said, "So I got that goin' for me…."
Doc specializes in suicide counseling for vets and offers his love and service over the entire USA. Doc's message to Elk City: "Please tell 'em we really appreciate the warm welcome and look forward to this meet-up. We are really excited to come there with our members and our event."
They especially appreciate the support of the local VFW chapter, which is actively involved in hosting this event. Elk City VFW Commander Bruce Gabari is supportive and enthusiastic about the event: "We have a number of things planned and are really happy to host this group. We'll have band all weekend and kegs brought in special for this great event."
Elk City is preparing a proper welcome for these vets, and Durr said he expects between 125 and 150 visitors to Elk City that weekend.