GRANGEVILLE -- In bringing food to American tables, the nation's agricultural industry contends with the high level of risk of injury for its workers in all stages of the process: from farm and corral, to transportation and processing. And if that wasn't enough, this year brought the added risk of COVID-19.
To that last part, the Centers for Disease Control states there is no evidence that livestock, crops or products that may be handled by workers involved in production agriculture are sources of COVID-19 infection. However, close contact with coworkers may contribute to spreading the virus among workers.
As the agriculture industry adjusts to this new normal for the time being, one company, Columbia Grain International (CGI), implemented an enhanced safety plan this past harvest season, backed by a COVID-19 mitigation strategy, to keep its producers and customers safely connected and protected.
Establishing and practicing safety protocols are nothing new for CGI, according to director of safety, Bill Spreeman. Enhancements to established policies CGI adopted this year were motivated by two factors, he said.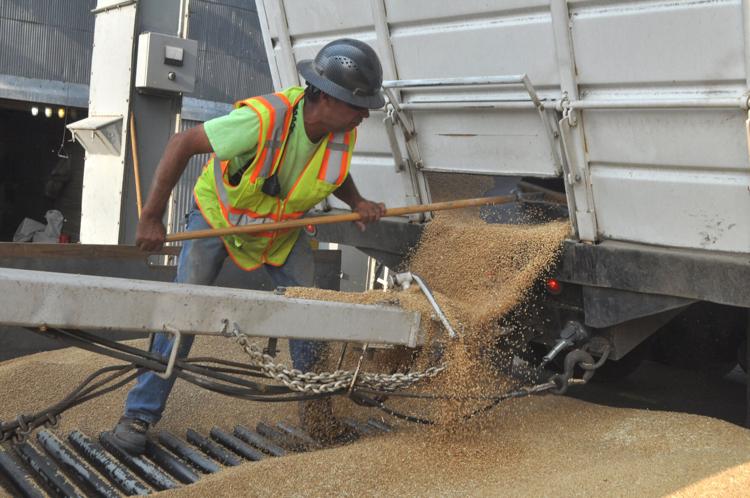 "One was, Columbia Grain International experienced a tragedy over a year ago in July," Spreeman said. "Another reason is pretty prevalent in our industry and by our producers – folks continue to make and take risks and go into bins with grain and grain moving. So, we felt it would be appropriate to reach out and educate both our producers and employees at the same time. We really thought that education is one of the steps we needed to take to help provide insight into what would go wrong if they take those risks."
And risks there are.
Number three in the top five of agricultural industry accidents is asphyxiation: Working inside a grain bin or silo can lead to asphyxiation either from poor ventilation or by falling into a large supply of the grain.
Overall, according to the National Institute for Occupational Safety and Health (NIOSH), agriculture ranks among the most hazardous industries. Farmers are at very high risk for fatal and nonfatal injuries; and farming is one of the few industries in which family members (who often share the work and live on the
premises) are also at risk for fatal and nonfatal injuries. According to NIOSH, every day, about 100 agricultural workers suffer a lost-work-time injury.
For both its producers and employees, CGI hosted a free virtual screening of the film, SILO, a story about the victim of grain entrapment and its ramifications on not only a small rural town, but the agricultural industry, as a whole. According to Spreeman, the dramatization was an eye-opener for many.
"For everybody viewing the production, the first thing that was glaringly apparent was how quickly something could go wrong," he said, as well as the fact that being prepared and preparation are just part of mitigating tragedy. "It's education, equipment, practice and commitment, and how those things save a life."
With those dramatized concepts brought to the forefront, Spreeman said that for producers and employees, "it now makes sense why we invest our time, our money in doing practice drills, to have effective communication and effective safety equipment. Should something go wrong, we are prepared."
"People are resistant to change," he continued, "with the initial defensive reaction being, 'Do we have to do this?' After watching the video and going through a number of trainings, our people realize they can do this in the same amount of time, and it's safer and better to account for things that could go wrong. Initially there is resistance, and as we adopt standard operating procedures it becomes habit and the way we do things, and employees see it isn't costing us time and is actually a good investment."
That safety message has not just adherence, but also buy-in, at the local level, according to Brandon Rehder, manager for CGI South Camas Prairie (Grangeville, Cottonwood, Big Butte and Fenn facilities).
"Our safety culture really starts from the ground up. Management has given us the direction, and once we get our employees to buy into it, that's when it really thrives," Rehder said. That starts with education.
"Every new policy is implemented for a reason," he continued. "First, you have to understand why, then you need to educate your crew on the 'why' aspect so you get buy-in on the new changes."
Rehder said to avoid accidents, he'd rather play offensive than defensive. Wearing the PPE (personal protective equipment) – hard hats, high-visibility shirts and vests, dust masks, etc., is important defense, "but when you have guys out there looking out for each other, and identifying safety hazards and fixing safety hazards, that's when you're on the offense."
"At the end of the day, our whole goal is we want people to go home healthy at night to their families and loved ones," Rehder said. "Every work place accident can be prevented, and corporate gives us the tools to be successful in that."
At the outset of COVID-19, Spreeman said CGI was like others in the industry struggling to find options to protect both its workers as well as their producers, and from this they put together a pandemic plan that explained their procedures to mitigate cases and their extent.
CGI practices safe distancing with trucks stopping at the weighing scale window, and in personal interactions they are meeting in smaller groups and limiting hosting customers indoors.
"We've really been successful, and we've been able to get our employees and our producers to embrace those universal protocols as established by the CDC [Centers for Disease Control]," he said. Part of this has been difficult as, "in our line of work, it's a lot about relationships," so that reduces the time normally spent in visiting with clients. However, that reduced time has translated into more efficiency, "and has paid off in dividends to reduce exposure to our producers and our employees."
Spreeman added the habits due to COVID now are probably behaviors that will continue, "because they do make sense, as there's a lot of other diseases out there besides COVID."
It takes reminders, he said, "because it's really easy to fall into a trap with the virus out there," he said, and complimented CGI leadership for, "continually reminding and positively reinforcing good behaviors and the universal protocols, and not to just let them roll out on their own. Those have to be reminded and reinforced almost daily to be effective."