HARPSTER — If you're in the market for some authentic leather western accessories this season, look no farther than R Bar D Leather. Owned and operated by Sara Daugherty, the small home business offers western leather accessories and jewelry that includes handbags, bracelets, cuffs, headbands, custom bands for flip-flop sandals, earrings, and beaded necklaces.
"I also make nosebands for horse and pony halters and corner plaques and wear leathers for saddle pads and blankets," she said. "These are common awards items I have made for junior rodeos, as well."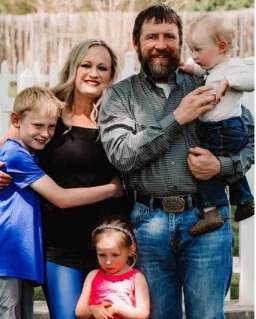 Daugherty said her dad, who is a western artist and cowboy cartoonist, taught her some basic leatherworking skills when she was about 15. "I decided to pick it up again after college to make my own accessories for my wedding," she recalled. "I have taken a couple classes in Durango, Colo., to learn to make necklaces. I have also taken classes from very skilled leather artisans all over the West to build my leatherworking skills."
These include Chan Geer from Sheridan, Wyo.; Alan Dewey, a now retired saddle maker from Hamley & Co. in Pendleton, Ore; and Jeff Morrow with Shooting Star Saddlery from Niarada, Mont.
She said she takes custom orders, as well, "as long as I have the skill set and the time commitment."
"I love all seasons of the year and I feel very fortunate to live here to experience the winter weather during the Christmas season," Daugherty added. "One of my favorite things to do is picking out a Christmas tree from the forest with my family. I also like to see the local talent showcased at our Christmas bazars."
R Bar D Leather is available by phone/text at 208-739-2932; email at rbardleather@gmail.com; or send a message to the Facebook page R Bar D Leather.