DIXIE – "I have very good genes," G.L. "Waldy" Waldenmyer stated matter-of-factly.
The 99-year-old Dixie resident sat on his front porch Saturday afternoon, Aug. 3, waving and talking to passersby as he and his daughter, Sami Binns, had coffee together.
Waldy said he was born and raised in Ohio.
"I'm a Buckeye!" he smiled proudly.
He grew up on a farm and said he spent his life "doing almost every job you can think of," and traveling throughout the U.S.
He spent several years in the U.S. Army Air Corps (later renamed the United States Air Force) working in armament.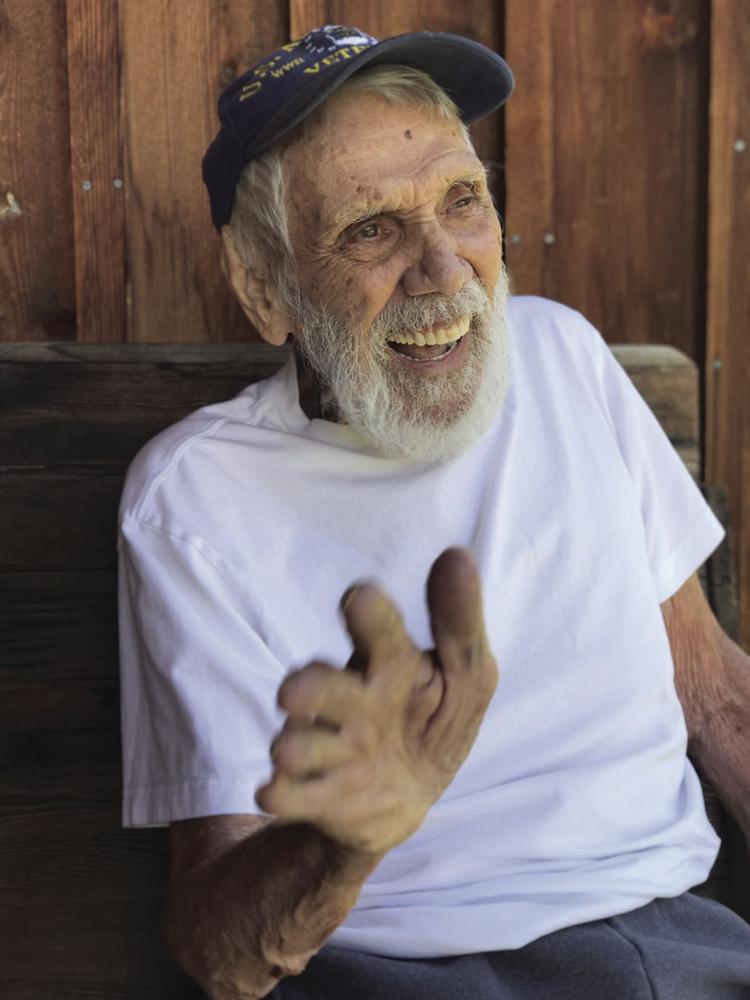 "I serviced the guns and anything else to do with armament," he said.
He served in Europe and was stationed in Molesworth, England, and Casablanca, Morocco.
Waldy met his wife in Boise and they raised their five children mainly on a ranch in The Dalles, Ore., before returning to Boise where he joined the fire department.
"Dad loves being a rancher, but Mom was a city girl," Sami said.
In the 1970s, Waldy found Dixie through a friend where he began annual hunting trips to the area. He visited so often, some told him he should purchase land in the tiny town, so he did.
"He owns the only commercial property in Dixie," Sami said. This includes land on both sides of the town's main drag.
When he retired from the Boise Fire Department, he moved to Dixie permanently.
"I love it here," his eyes twinkled.
His first cabin was built by two women, he said – Hazel Gibson and Maudie Pratt. It was housed next to Dixie's original house of ill repute, Sami said – which is now simply a small pile of rubble.
Waldy lives in a newer cabin next door to that first one now. He formerly owned four mining claims at Lark's Spur in Dixie.
"I found a little bit of gold," he smiled.
He also owned and leased out The Lodgepole Restaurant and Bar, just across the road from his current cabin. This burned down in the early 2000s.
"I lost a lot in that," he shook his head.
Up until two years ago. Waldy had a Welsh Corgi named Molly.
"She was the best dog, the smartest dog," he said.
Sami said Molly helped her father remain active as he walked his dog twice a day, year-round.
Molly had a problem with her back and surgery – and even a wheelchair – did not help. She later had to be put to sleep.
"We really miss her," Sami patted her dad's hand.
Sami and her husband, Rick, have a cabin up the road they've owned since the 1990s. They live in Bellevue full time and visit several times a year.
Waldy has several grandchildren and great-grandchildren. He enjoys checking The Weather Channel and listening to music on a Dish TV channel.
He is the youngest of his six brothers and the only one alive now.
"My dad's sister lived to be 101, and I'm pretty close to that," he smiled. "I'll be 100 in May of 2020, and even though I have COPD, I'm still in pretty good health."