COTTONWOOD – As the saying goes, it's not the destination, it's the journey. For Emile Brager, those are words he's literally lived by in mule pack travels he's undergone across thousands of miles and more than a dozen countries, taking months to years to complete.
Another such journey has brought Brager, a resident of Avignon, France, and self-described "back country boy," to Cottonwood where he has been outfitting his next excursion: a round trip ride across the U.S. and into Canada, with just himself and three mules he purchased for the estimated two-year trip from Coyote Mule Company.
"Every several years I like to do something special in my life," said Brager, a retired high school physical education teacher. He has taken on three extended mule trips: a 14-month, 10,000 kilometer ride through France, Spain and Portugal; a four-year, 25,000 kilometer journey from southern Argentina to Fairbanks, Alaska; and a 10-month, 10,000 kilometer traverse across the U.S. from Carlsbad Caverns to California, Nevada, Nebraska, North Dakota and to the Grand Tetons.
Brager's latest trip will start in Elk City and toward Conner, Mont., and then into Yellowstone National Park, and from there east to Lake Michigan and into Canada, headed west to Grande Prairie and then south back into the U.S. along the Rockies to end up at Four Corners.
"That is the proposal, but what will happen will happen. That's important; we do what we can," he said. "I will try to the best I can, and if I cannot, I will do a little bit less, which is fine."
Brager has been involved with equines, horses specifically, since 1975, that he describes as a way of life for him, one that he is continually learning about and never expects to finish. He is also the author of 'Techniques du Voyage à Cheval', an instructional guide now in its 4th edition that is considered an essential read for long-distance riders.
Asked why he is going on this ride, Brager notes three main reasons.
"First, I like a good relationship with mules. Second, I love to be outside, I have good equipment and I can face to be outside with any kind of weather," he said. "Third, I love the landscape of the Rockies and the plains. That is different and I like it." Within this, he enjoys the wildlife and big game to see in the U.S. and Canada, and he looks forward to meeting with and learning from other equine enthusiasts.
"Horsemanship is something special in this country," he said. "You have a lot of high-level horsemen and horsewomen, so it will be interesting to meet them and to share experiences."
What brought him to Cottonwood was meeting Coyote Mule Company owners, Barney and Bobbie Chambers, several weeks ago at Bishop Mule Days in Bishop, Calif., he said.
"They say to me, we have mules at home, maybe some of our mules can do for you," he said, so he came up and bought three for his ride: two johns (Plip, age 8, and Jack, age 11) and one molly, Sally, age 6. Having been around English speakers, how will the mules adjust to someone giving commands in French?
"It is a few words, not a library," Brager laughed.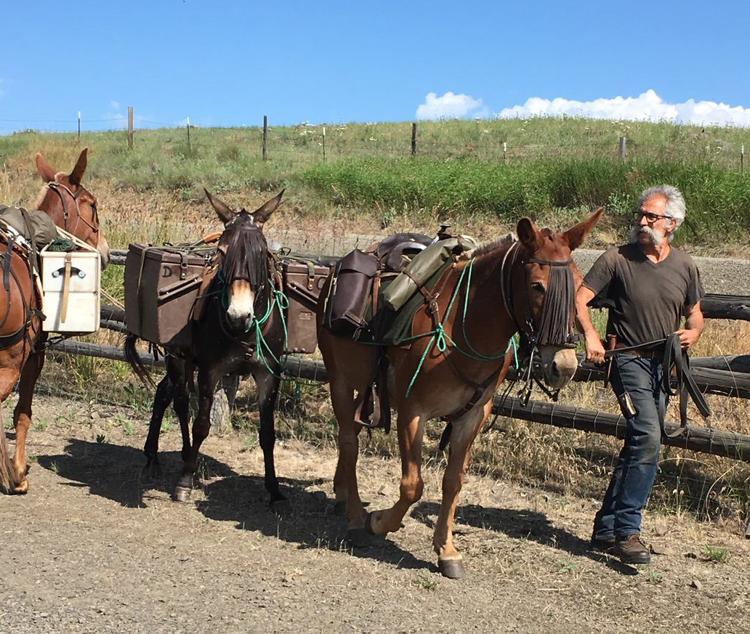 Speaking at the Chambers' ranch earlier last month, Barger said the learning from Barney and Bobbie is important, as has been establishing a relationship between him and the mules.
"The objective is to start from here with enough safety," he said. "I do not know them enough, and they do not trust me enough…today. Maybe, the next three or four days, they will change their mind. I am working on that," Brager said, in a process that he is working through slowly, and understanding this relationship will continue to develop on the ride. "The first two, three weeks, the mileage is not important. To do miles is easy, to put one foot in front of the other. The relationship is more important," as they will be with him 24 hours a day and will need to trust him enough to be under his authority.
"That he is the boss, he is a good boss, so we stay with him. That is the main law with mules," he said.
The main problem Brager expects on this journey are roads and his encounters with traffic.
"There are not trails everywhere, so sometimes I will have to get to a town to buy groceries, and traffic is the main problem," he said. However, unlike Europe, he continued, roads in the U.S. are wider, "and in this country, people are usually respectful."
This two-year trip will be broken up into his returning to France to see his two children; a girl, 4, and boy, 9. His son is old enough, and a "back country child," he said, whom he'll bring back to experience a portion of the ride.
In planning his trip, Brager complimented the Chambers for sharing their experience and receiving him like a friend.
"They are helpful, and to start this kind of ride, when this is not your home, that is important."